September 27, 2021
How Video is Transforming the Way We Shop Online
Video has become the most-consumed content format across the internet, and it's the go-to source of information for 66% of people. With social platforms placing more of an emphasis on video sharing and YouTube becoming the second-most visited website online, it's easy to see how the digital landscape is changing around this rise in motion content.

We wanted to find out how video plays a part in the customer journey. With more customers choosing to shop online, we wanted to uncover just how important it is and to what extent it influences the decision to purchase. To do this, we reached out to shoppers to ask them a few questions about their thoughts on video when online shopping.


Here are some of our key findings:

Over half of shoppers are are more likely to buy something if there's a video of the product
Product photography is the most helpful factor for shoppers when online shopping
91% of people have been influenced by a social media post to buy something
Shoppers are more influenced by social posts from brands over influencers
Nearly half of shoppers use YouTube review videos to help them make a decision before purchase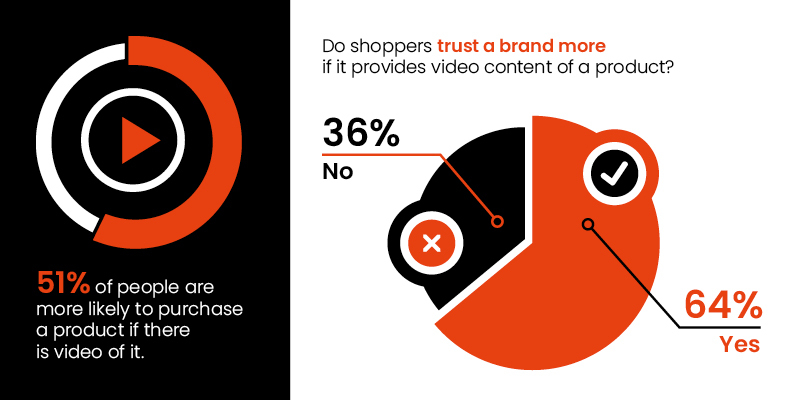 Over half of shoppers are more likely to buy a product if there's a video of it
Having high quality product photography has long been considered an essential for any brand looking to promote their wares online. And with online sales growing by 36% in 2020 compared to 2019, it's never been more crucial to keep customers interested and engaged. As consumer demand grows, the need to find new ways of showing users exactly what they're missing has led to many brands adopting video into their ecommerce strategy. 

Product videos aren't new, especially in the fashion industry where videos of clothing being modelled by real-life people are standard on ecommerce pages. But the action of capturing product from all angles in a multi-dimensional form is becoming more and more common among brands and - as we've found from our survey - expected from consumers.

We asked how much more likely shoppers were to make a purchase if there was a video of a product, as opposed to just photographs. Our results revealed that 51% of shoppers were more likely to buy because of a video, which not only shows how much influence the content can have over purchasing decisions, but proves why brands should be shooting video content alongside photography.

Our survey data also confirmed why video is important even before the purchase stage. 64% of consumers we spoke to said that they trust a brand more if they provide video content for their products. And as any marketer knows, brand trust is the first step in building loyalty.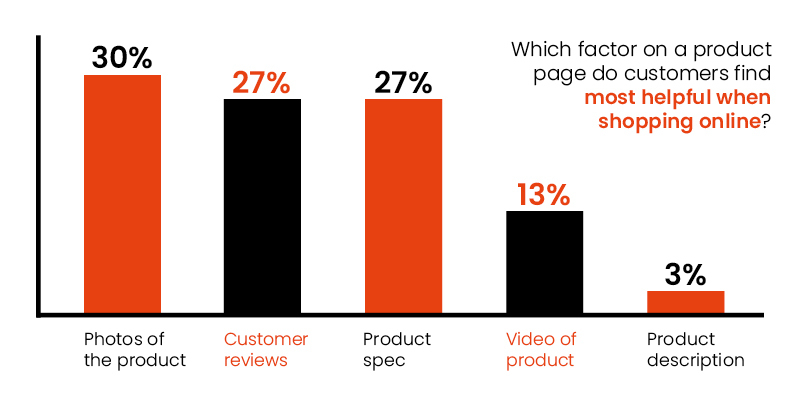 Despite the persuasive power of video, shoppers find product photography the most helpful when browsing online
While video is changing the way people shop, it's no substitute for traditional product photography. Well-designed ecommerce product pages require several different components to successfully answer shoppers' questions and encourage them to buy. These characteristics can vary from must-have to nice-to-have, but the bare minimum is often price, product name, product description and product photography.

When we asked shoppers which part of a product page they found the most useful, 30% said photos of the product. Customer reviews and product specification came joint second, 27%, videos of the product in third, 13%, and the product description was chosen as the least useful, 3%.

91% of people have been influenced by a social media post to buy something
We're sure that we don't need to tell brands that they should be implementing a targeted social media campaign, but this statistic that we found out in our survey says it all. 91% of shoppers have decided to buy something purely from a social media post that they've seen. 

With 3.96 billion worldwide social media users who spend an average time of 2 hours and 24 minutes on social platforms a day, that equates to a lot of potential marketing prospects. By our calculations at least.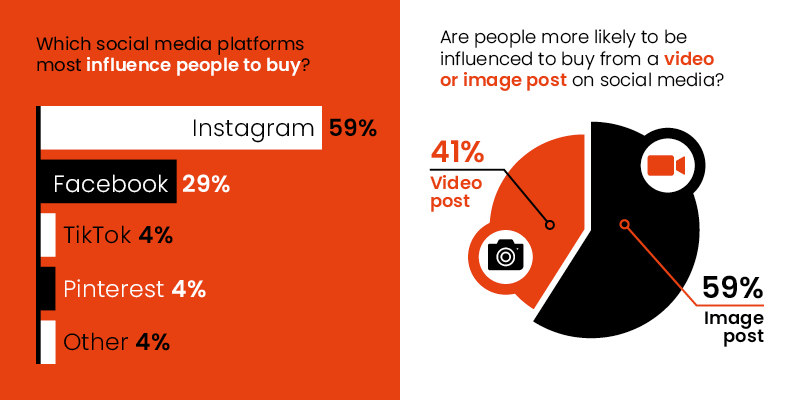 We also found out that Instagram is the top app for influencing purchase decisions, with 59% of people naming it as the site which has most pushed them into buying. Facebook was second with 29% of people, and in third was TikTok and Pinterest at 4%. We were surprised to see TikTok score so low. We were even more shocked to discover that despite its rising popularity amongst Millennial and Gen Z audiences, 43% of shoppers don't expect brands to have an active TikTok account.

So let's take a look at how video performs on these networks.

Our survey results revealed that shoppers were more likely to be influenced to buy from a video post than a static image post. Finding out that video content engages customers more than regular photographic posts is a sure sign that brands should be incorporating more of it into their social strategy.

And don't just take our word for it. While Instagram has never openly said that the algorithm favours video over image posts, the addition of Reels and IGTV functions is definitely a clue that the app is encouraging users to adopt video into their feed.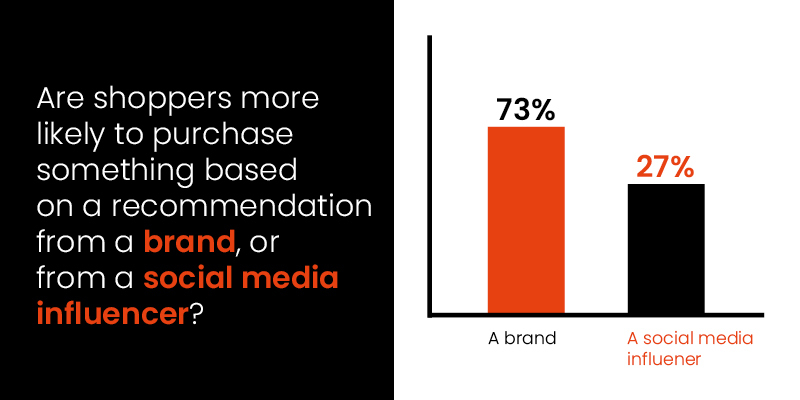 Shoppers are more influenced by social posts from brands over influencers
With 91% of social media users making the decision to convert based purely on a social post, we wanted to dig a little deeper into exactly what kind of posts they're influenced by.

So, we questioned them about whether they were more likely to purchase based on a recommendation from a brand page or an influencer account. The results were fairly unanimous with 73% opting to trust brands than influencers.

Influencer marketing is set to become a $15 billion industry by 2022, but when up against the power of brand loyalty and reputation, it seems that the brand is clearly still the most reputable and trusted source for shoppers.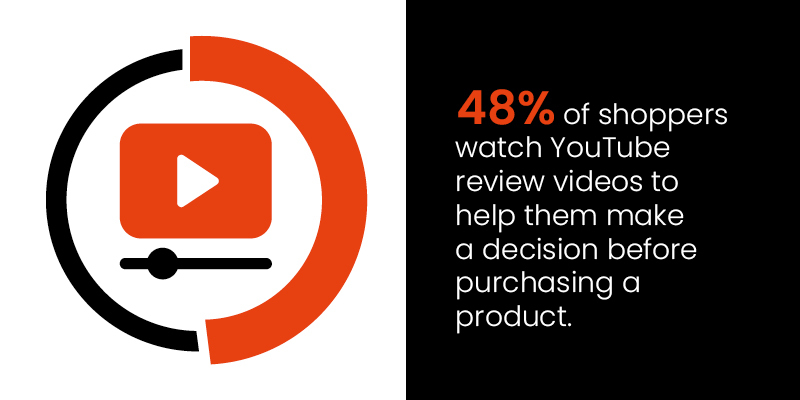 Nearly half of shoppers use YouTube review videos to help them make a decision before purchase
There's another site that we can't forget when talking about video. YouTube is the biggest video sharing platform, so it's only right that we explore how people use the site to help them shop.

Firstly, 48% of our survey respondents said that they use YouTube product review videos to help inform their purchase decisions. With nearly half of shoppers taking to the streaming site to find out answers that will make their mind up about whether to buy something, it's fair to state that review videos are filling an important gap in the decision-making process.

The most popular types of YouTube review videos that shoppers watch are for technology products, 72%. Beauty and cosmetics came in second at 37% and home appliances in third at 33%.

Given the high cost and one-off purchase mentality of technology, it's understandable why customers would want to do their research before buying. Review videos can include anything from unboxing to tutorials and information about product specification, all folded into one easily-digestible video. It makes them the perfect content format for a prospective customer in the product research stage.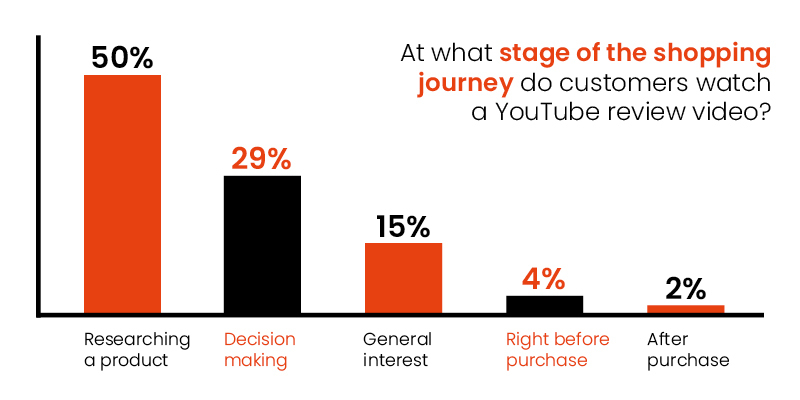 Why the product research stage? Because 50% of shoppers in our survey said that they choose to watch review videos when researching a product that they're interested in. After that, 29% of people watch them in the decision-making stage. It proves just how valuable product review video content can be to help convert browsers to customers.

Lastly, we wanted to know what types of videos are most effective for nudging shoppers to add to cart. Out of multiple video formats, demonstration videos were selected as the most helpful when shopping online, 27%. Demonstration videos give shoppers a chance to visually try-before-they-buy, capturing products in a way that no static image could ever.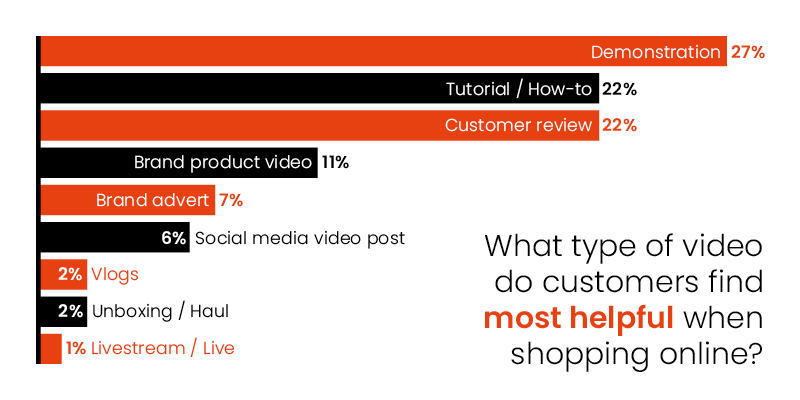 Tutorial or how-to and customer review videos were joint second for the most popular video type, 22%, and brand product videos came in third, 11%.

Even though brand videos were only chosen by a tenth of customers in our survey, companies shouldn't dismiss YouTube videos as a part of their content plan. Clear and informative demonstration videos are a clear winner. While channeling brand style and aesthetics may be important to you, remember that this isn't an ad. Keep the viewer in mind during the entire content creation stage to make sure you're answering any queries and quelling any concerns they may have about your product.

And before you write off customer review videos, remember that that's what brand partnerships and sponsorships are for. Leveraging sponsored content campaigns with YouTube influencers that align with your brand is common practice, and it pays off. A study found that 60% of YouTube viewers would try a product that was recommended by a YouTube influencer.

So regardless of whether you're creating video content for your website, for YouTube or you're not physically creating it yourself, video should always be a consideration for any marketing strategy. With a range of accessible content creation tools out there to suit all marketers and businesses, the time to reap the benefits of video is now.
Need help getting started? Get in touch with us today and speak with our collective of creative experts to help kickstart your next video campaign.