August 31, 2018
What you can do, I can do better: Is Instagram going to be the end of Snapchat?
The days of Facebook are well and truly over, there's no denying it. This week, statistics reveal that Mark Zuckerberg's social networking company has lost over 500,000 users over the last two years. Whilst it remains the most popular platform in terms of size, it will have just 2% growth overall this year. Compare that to Snapchat, a platform half the size of Facebook, who are expecting a 9% growth this year. A young demographic was the key to Facebook's success, and now the young audience that Mark Zuckerberg captured with his platform has now grown up and moved on.
Many flocked to Snapchat, with its disappearing images, twenty-four hour stories and quirky animal filters. In 2014, the brainchild of three Stanford University students was the fastest growing social/messaging app. It evolved to include AR filters, personalised bitmojis, geofilters and even Snapchat Goggles. On paper, Snapchat was years ahead of its competitors.
Then the other platforms began to catch up. Seeing the wave of success that Snapchat was riding and how Facebook was becoming an unsalvageable online space for an older audience, Mark Zuckerberg decided to launch his first attack against the photo-messaging platform. In 2012 Zuckerberg bought Instagram for $1billion and has been trying ever since to use it to dominate the social platform race and outperform Snapchat.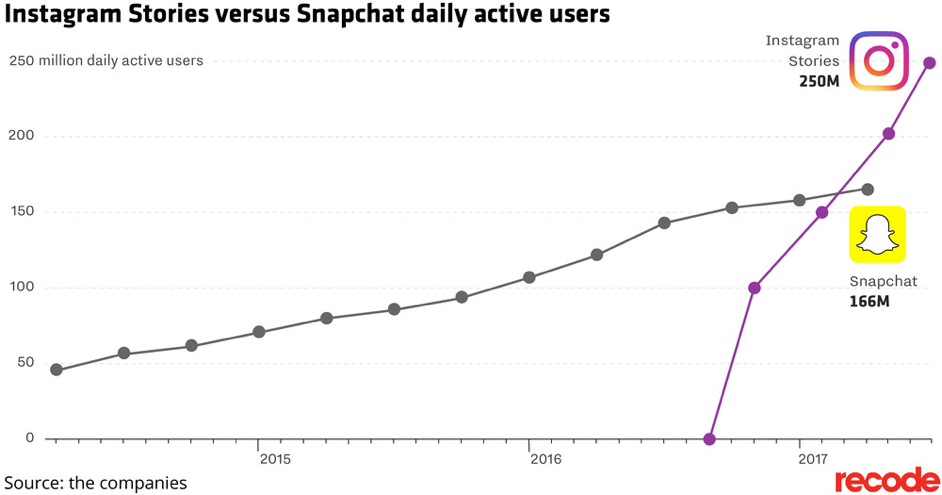 His second move came in the form of Instagram stories, an uncanny echo of Snapchat's own unique and popular feature. This was followed not long after by filters within the stories, and more recently, polls and question and answer functions which can all be used within the Instagram story feature. Instagram's rollout of its own story feature quickly overtook Snapchat's own success, with many more users not only populating the app but also engaging with its functions.
400 million Instagram users are now taking advantage of the Instagram stories feature, which is 100 million more users than Instagram had in 2016. As Snapchat continues to cater for its 188 million active daily users, Instagram's user base as swelled to a gargantuan 800 million. From a marketing standpoint, Instagram offers the highest interaction rate with 70% of users being more likely to make a mobile purchase.
Is all of this Mark Zuckerberg's attempt at retaliation at Snapchat's refusal of his offer to buy the company for $3 billion in 2013? It seems pretty obvious when you look at the figures. In the last year alone, Instagram welcomed 300 million new users, which is more than Snapchat has in total. Unfortunately for Snapchat, the platform lost 3 million daily active users in the second quarter of 2018
The question for marketers now is: where is your brand finding its audience, and how are you going to capture hearts and minds in the latest social media space? The answer to these questions can be found in the fact that 80% of Instagram users follow a business and 75% of users take action after viewing a post. To put that into perspective, that's double the population of the USA engaging with Instagram posts. With regards to the 'how' part of the question, it's no secret that video marketing accounts for the majority of consumer traffic and offer the best return on investment. Also the fact that Instagram videos receive more than 5 million shares in 24 hours, it seems only natural that the image sharing platform is the best place for increasing impressions, engagement rates and ultimately revenue.
These statistics coupled with the fact that Snapchat's shares have fallen drastically in the last year, leading to the company offering its shares for sale, reveal the irrevocable truth that Snapchat is on the decline. Under Mark Zuckerberg's careful direction, Instagram continues to not only meet Snapchat's functionality, but better it.
Image Credits: Recode