February 25, 2022
A Pocket Guide to Digital Marketing Jargon
If you're new to digital marketing, it's natural to feel overwhelmed by the sheer volume of new information and terms you'll come across. You begin to feel as if you're reading another language. However, digital marketing, like any other profession, has developed its own language for describing marketing channels, tactics, techniques, metrics, and so much more.
It's difficult to cut through all of the marketing jargon that's out there these days, so we've put together this list of marketing terms to help you break the code!
25 General Digital Marketing Terms
Analytics - A method of improving customer experience by observing what customers do and finding ways to improve it. Although other search engines have their own analytics platforms, Google Analytics is the most popular. It allows webmasters (owners of websites) to collect statistics and information about how visitors interact with their sites. This could include things like the amount of time spent on the site, the pages visited, and the activities made, among other things.
Backlinks - This is just a link from another website to yours. Backlinks are one of Google's most important ranking factors. In a nutshell, the more sites that link to you, the more valuable your material is in Google's eyes. What could be more straightforward? A word of warning, though. Backlinks can both help and hurt you. Multiple links from spammy domains or domains with poor authority can diminish your authority in Google's eyes. Having a large number of links surface at once can signal to Google that you are attempting to manipulate your backlink profile, which can result in a penalty. Backlinks from high-authority domains that are naturally created and well-placed can provide you a significant boost in the search results.
Bounce rate - This is the number of visitors who 'bounce' (leave your site without interacting). You want your bounce rate to be as low as possible.
Ecommerce - Electronic Commerce is a type of business that sells its goods online. Shopify, WooCommerce, and Magento are three popular ecommerce platforms.
Email Marketing - The distribution of promotional emails. These can be a one-off or drip content designed as a funnel.
Call to action (CTA) - Any element on your website that encourages a user to act. Purchase a product, navigate to another section of your website, progress through a funnel, and complete a form. The simpler it is for your users to take any action, the higher your conversion rate. Calls to action should be frequent enough for a user to take action when necessary, but not so frequent that they become spammy.
Clickthrough rate (CTR) - Pay Per Click (PPC) advertising is one of the most common uses of this term . How many times did your advertisement display, and how many times was it clicked on? If it appeared 100 times and 10 people clicked on it this is a 1% CTR. It's fantastic that we can measure this because you'd never know from placing an ad in a magazine.
Conversion rate -How frequently does that conversion occur? If you have 1000 visitors and only 50 of them take action, your conversion rate is 5%. Conversion rates vary depending on the industry and the quality of your website and advertising initiatives.
Content Management System (CMS) - Software that helps users create and manage content on a website without the need for specialised technical knowledge - WordPress is a good example of this.
Cookies - A little piece of code saved on your device that allows you to track and identify your website usage. Some cookies are required to communicate information about your behaviour between pages, like during the checkout process or when you save goods to your favourites. Some are used for tracking purposes, such as gathering information about the different types of visitors who visit a website—such as their location, demographics, and so on.
Cost Per Click (CPC) - Simply put, the cost of a single click to your website. Because averages are worthless, seek for keyword averages and specialised averages. Some clicks cost pennies, while others cost £70 or more. A well-optimised website can improve quality score, which is important for SEO.
Customer Relationship Management (CRM) - CRM systems allow companies to manage data and information related to their business relationships. Examples are Zoho, Hubspot, and Salesforce.
Hyperlink - Hyperlinks are HTML code that creates a link from one web page to another. It's usually text, but it can also be an image or a bare URL.
Hashtag - #YOLO, hashtags are phrases that start with the "#" sign. Hashtags are widely used on social media to label content so that users can find it. Searching for hashtags will find all the content related to that topic. It's a great way to market your content on platforms like Instagram, Twitter, Facebook and LinkedIn.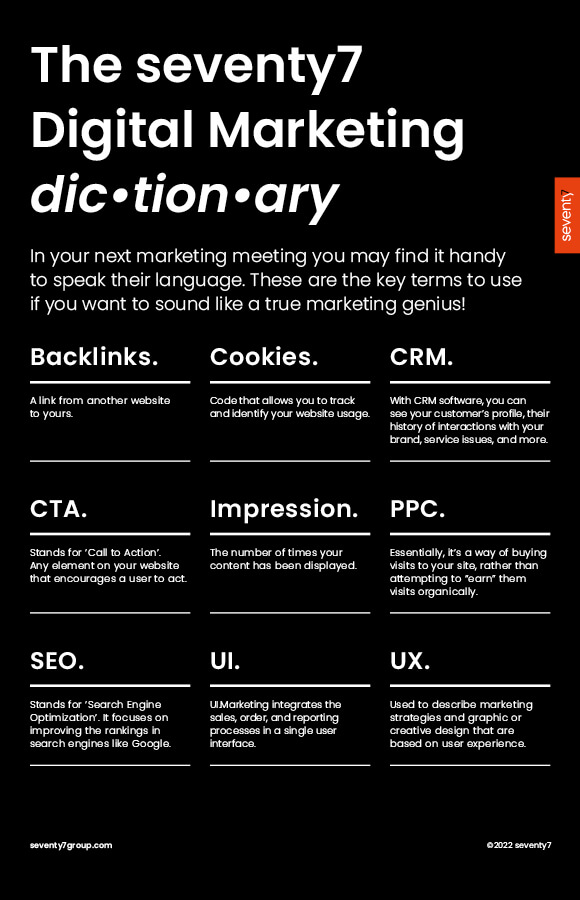 Impression - An indicator of how often something appears. For Google Display ads, the number of impressions is the number of times the ad was displayed on the page. When using Facebook ads, impressions are the number of times the ad appears on your feed. For Google Search Ads, impressions are the number of times your ad has been shown, whether or not it was clicked. In organic search, an impression is the number of times a website is displayed in a SERP for a particular search term, even if it doesn't appear on the first page. For example, if someone types "cat website" in their browser and you are in 25th place, it is the third page. Even if the user doesn't go to the third page, it still counts as an impression of Google Organic Search.
Keyword - Words (or phrases) that potential visitors expect to search to find your website or a particular campaign. For example, "Winter trainer sales". The overall premise behind SEO is to display as many related keywords as possible and dominate SERP. Keywords are not just words. It can be a group of two or more words or a sentence.
KPI - Key performance indicators are measurable values ​​that show how effectively a company is achieving its critical business goals.
Meta Description - A description attached to your website. The page must contain keywords to rank. Meta descriptions can be automatically generated by Google, even if you create them yourself, so try to make them as relevant as possible.
Paid Social - Using sponsored content or advertising to boost your site's presence in third party feeds and pages like facebook and instagram. By choosing the specific audience you want to reach using a range of demographic tools, paid social gets your message into the hands of your customers or potential customers effectively and efficiently.
Pay Per Click (PPC) - A type of advertising where you pay people to click on your ad. If correctly set up and handled, it can be very beneficial. Google Ads is a type of Pay Per Click advertising. Other sites include LinkedIn, Twitter, Facebook, Instagram.
Search Engine Optimisation (SEO) - Improving the content of your website in order to boost its exposure in a search engine i.e google.
Traffic - Essentially, this is the amount of people visiting your website. How do you get traffic to your website? Is it via Organic listings? Social media? Email Marketing or PPC? Ideally, it should be a range of all of the above.
Visitors - An analytical indicator. Visitors are divided into new visitors and repeaters, which helps you determine how many people have returned to your site and how many are brand new.
User Experience (UX) - Refers to the way users interact with a website or application and the overall experience. UX isn't the same as UI, but they work together. UX includes more than just the look of a website. This includes web page load speed, ease of use on mobile devices (think button size), and even if the UI "jumps" to load the element after accessing the clicked page. A good UX facilitates repeaters and engagement. UX is an important ranking factor for Google.
User interface (UI) - A graphical interface that allows users to interact with content through digital devices. The UI contains components such as navigation, buttons, and structure. A convenient user interface should be easy for humans to understand. Web design doesn't help users stand out, "eccentric" or otherwise. That's why organisations like Google have UI guidelines for consistency across the web. Designing a useful web or application needs to be intuitive, such as picking up a book and knowing where to start.
As much as there are terms you should use to fit in with marketers, here are the words you should actively avoid unless you want to come across as an extra from Nathan Barley (if you're too young for that reference, what are you doing here?)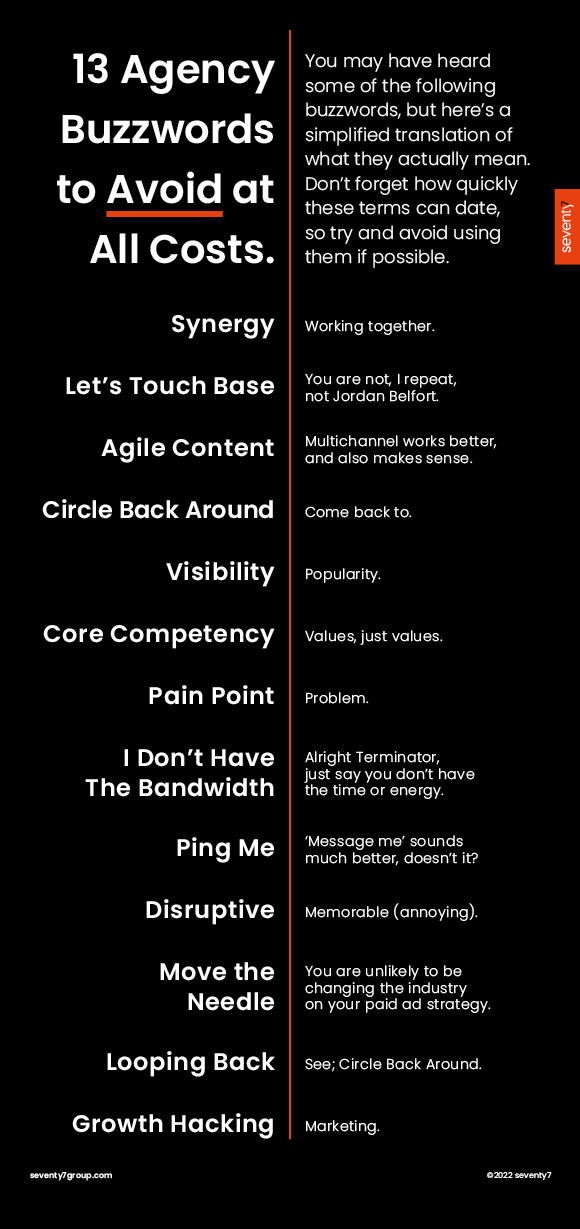 Whether you're starting afresh or revamping your strategy, If you're interested in learning more about digital marketing, our team is more than happy to help.  We know how to bring brands online in the most effective way.