March 8, 2017
come on ladies, let's get in formation
Do you feel it? That electric sense of urgency, the feeling that the time is now, that feeling of needing to do something big and bold. What am I talking about? Women's rights of course and its current status around the globe.
2017 kicked off with a bang as women's rights marches took place around the world. Big, bold and profound political placards were held high for all to see.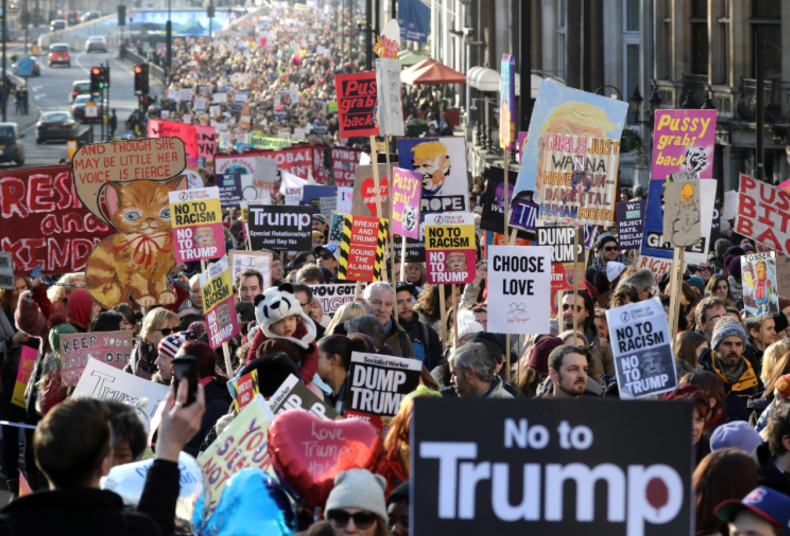 Worldwide, an astounding 4.8 million people united together to talk gender, proudly wearing feminist slogan t-shirts and fighting for the rights of women everywhere. And today, as we celebrate International Women's Day, it's seems that pussy is ready to grab back.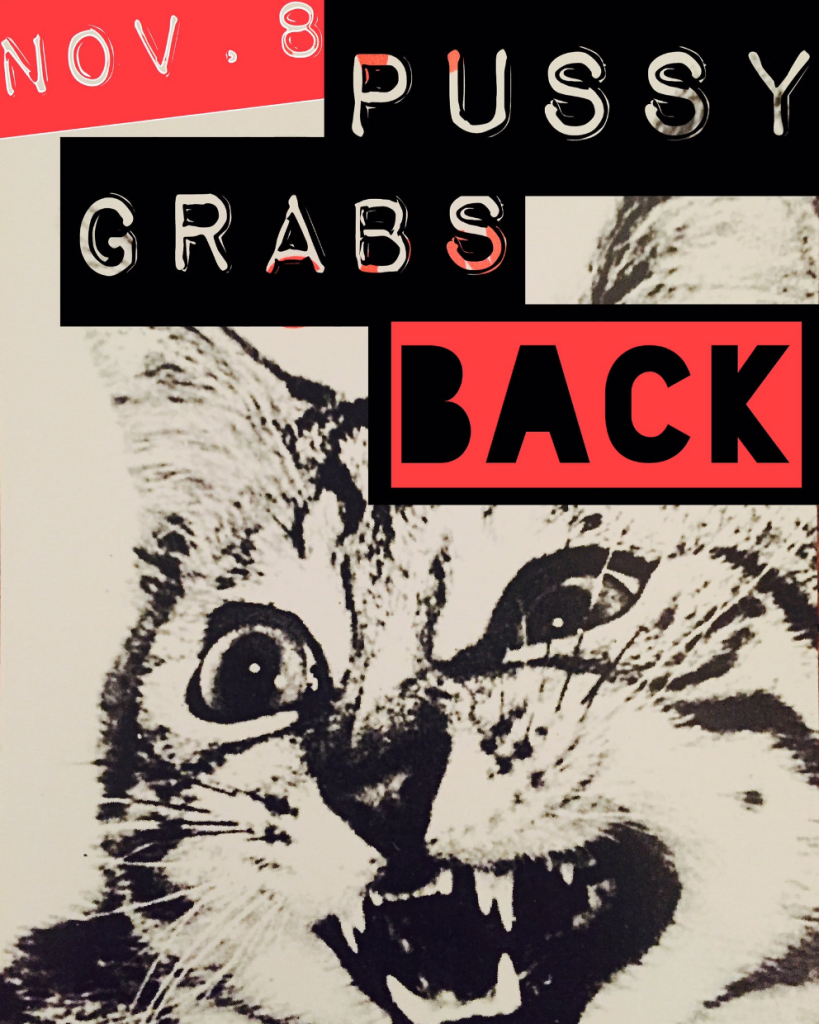 It's reported in the headlines, it's displayed all over fashion weeks and it's taken over all forms of social media. Women of the world have something to say, and we are saying it loud. Uniting against the oppression they feel, the sexism they still encounter and sticking two fingers up to the out of fashion and outdated opinions that warrant the media hype and support that surrounds International Women's Day.
We find ourselves marching strong in the third wave of feminism, and although some would say it's not women's rights we should be fighting for but human ones, empowerment is certainly the air. Women have proudly claimed back the word feminist. Emma Watson recently spoke out about the subject when she came under criticism for a recent photoshoot:
"Feminism is about giving women choice. Feminism is not a stick with which to beat other women with. It's about freedom, it's about liberation, it's about equality."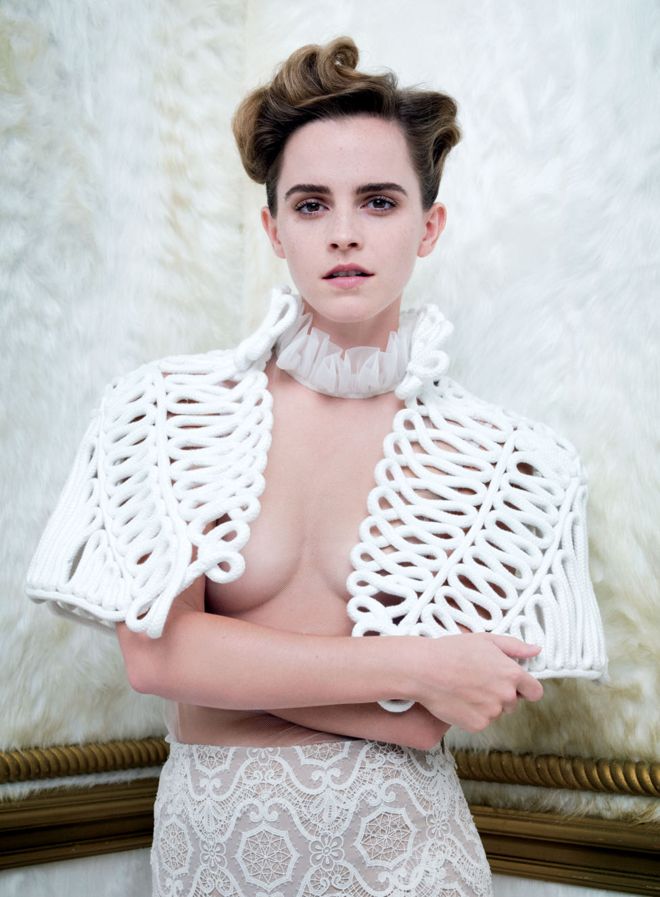 Image: Tim Walker, Vanity Fair
Natalie Massenet, Chairman of the British Fashion Council stated, "In times of uncertainty creativity is channelled into fashion statements of a different kind." This could not have been more true of the political statements being made throughout fashion weeks around the globe.
Designers Thornton and Bregazzi of Preen said of their collection "It's just a celebration of women throughout history and the importance of women who have something to say," Bregazzi explained that the designers had wanted to show how a corset's shape could be seen as "repressive or liberating." The designers further explored the concept of what a suffragettes uniform would have been, using the suffragettes colour of purple, adding ribbon details and high neck, white ruffle shirts.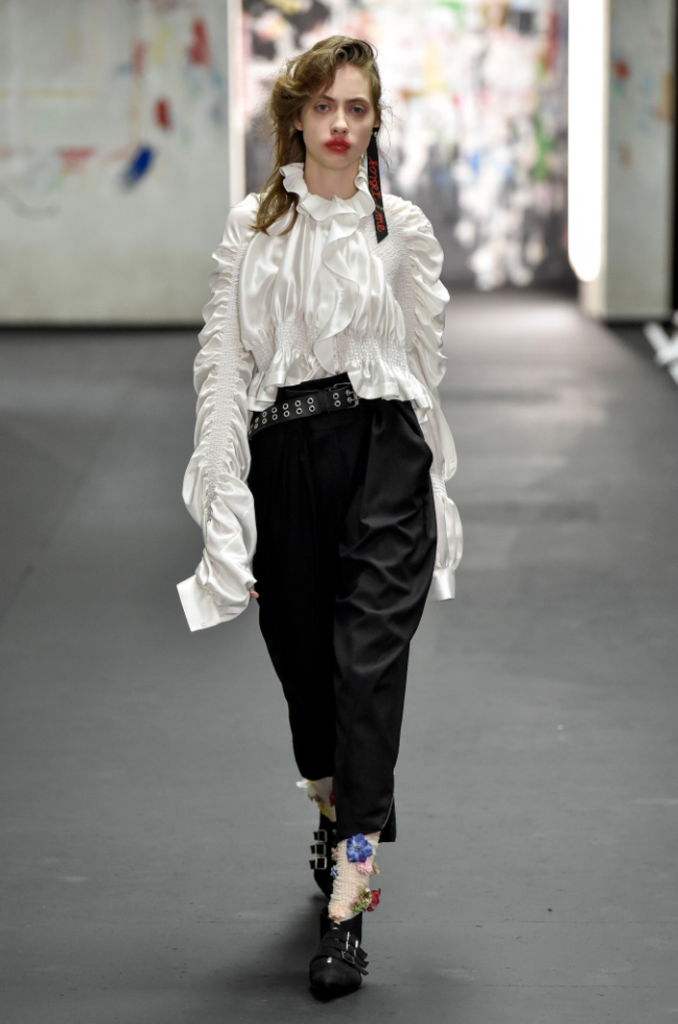 Ashish also made seriously bold statements in Sequins this year. With slogan t-shirts and mexican flighting masks, sending out a loud political messages about a variety of subjects not just women's rights. Speaking out about her collection, the Indian born designer told Vogue, "Every little thing was symbolic of what is happening now—we need to be united in a message of love and unity and stand up together against all the f***ed-up mess that is going on."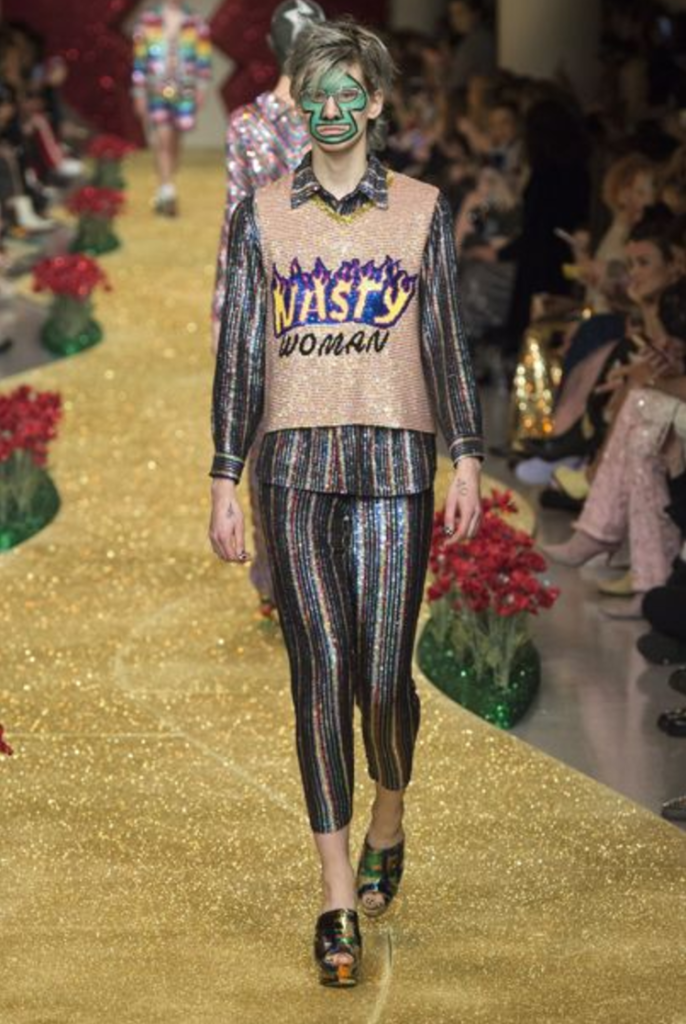 Slightly more tongue in cheek and a protest in itself, the famous Design house, Missoni, ended their Milan show sending forty models including Gigi Hadid and Angela Missoni herself down the catwalk in pink knitted pussy hats, similar to the style of hat that was seen at the Women's Marches early this year. The proceeds being donated to ACLU and U.N. Refugee Agency.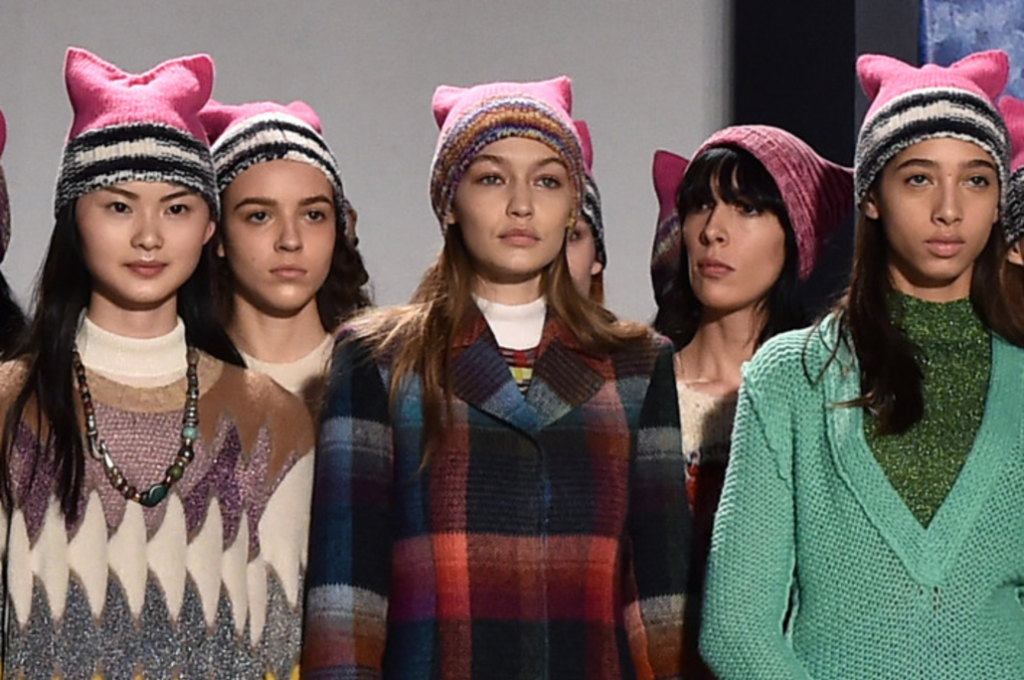 Fashion designer, Prabal Gurung, used his platform at New York Fashion week to advocate women's rights with more T-shirts displaying strong empowering female messages. "The Future Is Female" and "Girls Just Want To Have Fundamental Rights." The designer himself proudly wearing a t-shirt himself saying, "This is what a feminist looks like."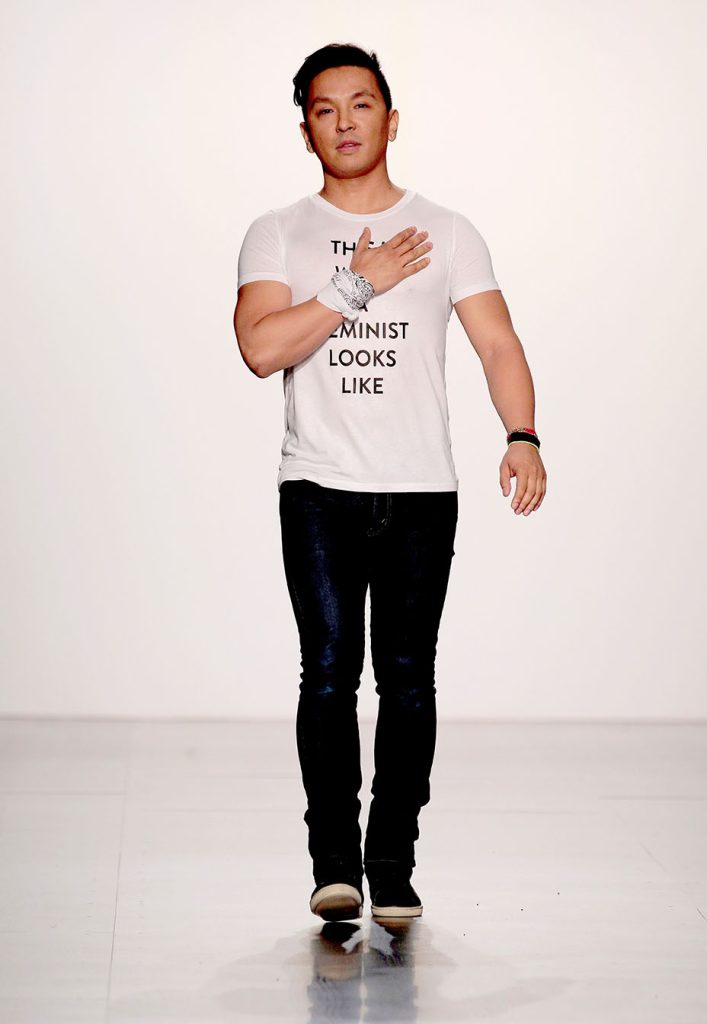 In New York, Mara Hoffman opened her show with a political performance from the women who founded the Women's Rights Marches. When Hoffman was asked if feminism was just a passing trend she said "Absolutely not, Feminism is a necessary, constant and ever changing movement, not a temporary trend."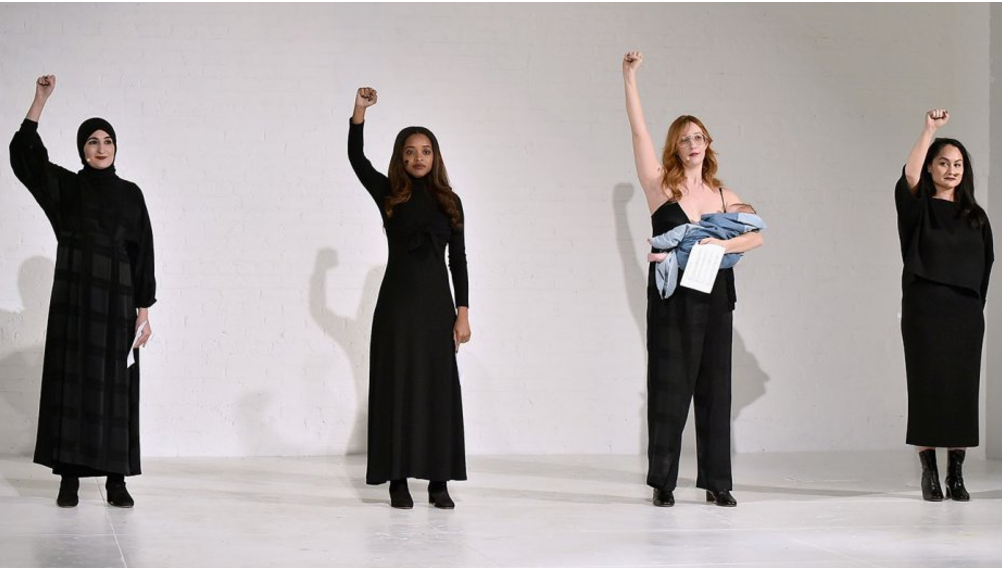 8th March, 2017 also marks the day Italian brand, Benetton, launches their 'United by Half' campaign, globally. Initially launched as a local campaign for the Indian market, the success of this initiative has meant it's now going worldwide.
So how far have we come in recent years towards our quest for equality? Our great great grandmothers would be immensely proud. Compared to the suffrage they felt and protested against years ago, we have made huge progress in gender equality. Through the waves of feminism we have blurred the lines in gender stereotyping, we have opened minds regarding women's sexuality and we have marginally bridged the gap between men and women in the workplace.
Facts
There's still

a 9.4% pay

difference between men and women

Women are still are not represented equally in numbers in high paying and high positioned roles for example in business or politics

The World Economic forum estimates it could take up to 118 years for the gap to be eliminated
"We cannot all succeed when half of us are held back"
– Malala Yousafzai
This year's International Women's Day theme is #beboldforchange and I guess that's the question. IWD is a day for global celebration and a call for gender parity. So are you prepared to be bold for change? Will you be an ambassador for women everywhere? We've proven that one voice is better than none but what about all our voices? Let's stand up and be be bold and say what is on your mind - help be the change that the world need to see.
So come on ladies, let's get in formation on the 8th of March.