February 6, 2017
forty going on seventy7
This is the story of our internal launch event.
Friday 27th January was no ordinary day for our teams in London, Manchester and Mumbai. It was, in fact, the culmination of a journey that began over a year ago, when we took the important decision to reflect on over 40 years delivering content for some of the biggest retailers in the world.
Background
Following careful research and analysis of the creative and retail markets, we realised we needed to change. Though the research provided crucial insight and helped us develop a clear purpose, the one thing it didn't do was capture our culture or give us a clue as to what we should be called. So that prompted us to re-focus and turn our attention inward, to our people.
We set them the biggest challenge of all, coming up with the name. After all, this is something we're hoping to stick with for another 40 years and better reflects the changing nature of our once photographic only business.
Dozens of names were submitted, from obscure Japanese flowers to completely made up words, but one stood out from the very beginning.
Seventy7.
Photolink was founded in 1977. It was also the year the first Star Wars film was released, the year of the New York City blackout, and sadly, the year we lost the legend that was Elvis Presley.
Getting There
At around 8am, over 130 of us started our trek from our respective offices and homes to the magical and mysterious midlands. More specifically, a place called Solihull where our launch event would be held.
Amazingly, only five people in the entire company knew what would happen that day, our talented event team:
Kevin Wilson
Nicole Leech
Fran Boyd
Jamie Tilley
Chris Ducker
The Seventy7 event team consisted of five volunteers from across the group who alongside their day job, wanted to help pull together a show-stopping day to celebrate the future, the vision and the values of what we were to become.
As you can imagine, in the weeks leading up to the event, our offices buzzed with rumours and excitement around what exactly was to be in store. Outfit anxiety was of course the biggest worry, exactly what does one wear to an internal brand launch day and and night?
Trains, planes and automobiles ensured our teams from London, Manchester and Mumbai arrived at the venue, St John's Hotel at midday, ready and raring to go.
Upon walking into reception, it was clear Seventy7 had taken over for the weekend. Our new brand was EVERYWHERE! We were met by Fran and Jamie from the events team, handing out our kitbags for the day of Seventy7 branded gear. This included a handy itinerary for the day, highlighting the absolute essentials:
When we were eating
How long we had to get changed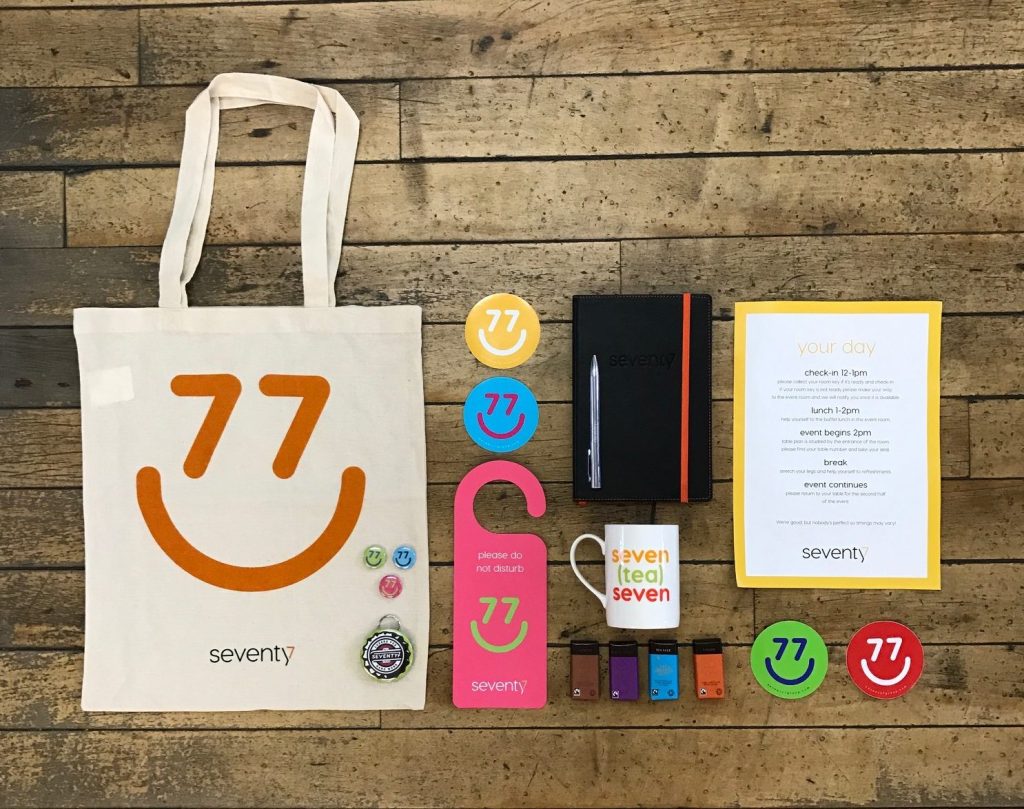 As everyone filtered into the holding room, lunch was served in the form of a huge buffet. It was at this point the real bonding began. The majority of people in that room had never met their colleagues from different offices. This was a huge moment. Would Mumbai like Manchester? Would London like Mumbai?
WHAT IF SOMEONE HAD THE SAME OUTFIT ON?
There was no need to panic.
It was obvious from the first few minutes that Seventy7 (Photolink and Hungry Tiger as it was) employs a certain type of person, friendly, open and inquisitive. Which office someone worked in didn't seem to matter anymore and conversations quickly turned back to what was about to happen.
The Event
2pm was officially show time. Months of hard work, late nights and secrecy was about to be over.
Whatever anyone expected, it wasn't this.
Loud, colourful and future-facing. This was what we were all there for. As people piled into the room, you could see a wave of nodding approvals and hear excited giggles as we took our seats.
To say our host for the day, Paul Corcoran, did a good job would be an injustice. He absolutely smashed it. Engaging a room full of sober, tired and anxious creatives is no easy thing, but Paul absolutely got what this day was about and had the room in the palm of his hands from the moment he welcomed us to the launch.
We sat on mixed tables of ten, mostly colleagues we'd never spent time with before. It was here we had our first challenge. Each table had a magnetic board and random mix of letters, our challenge? To come up with a team name. Here are a couple of the best: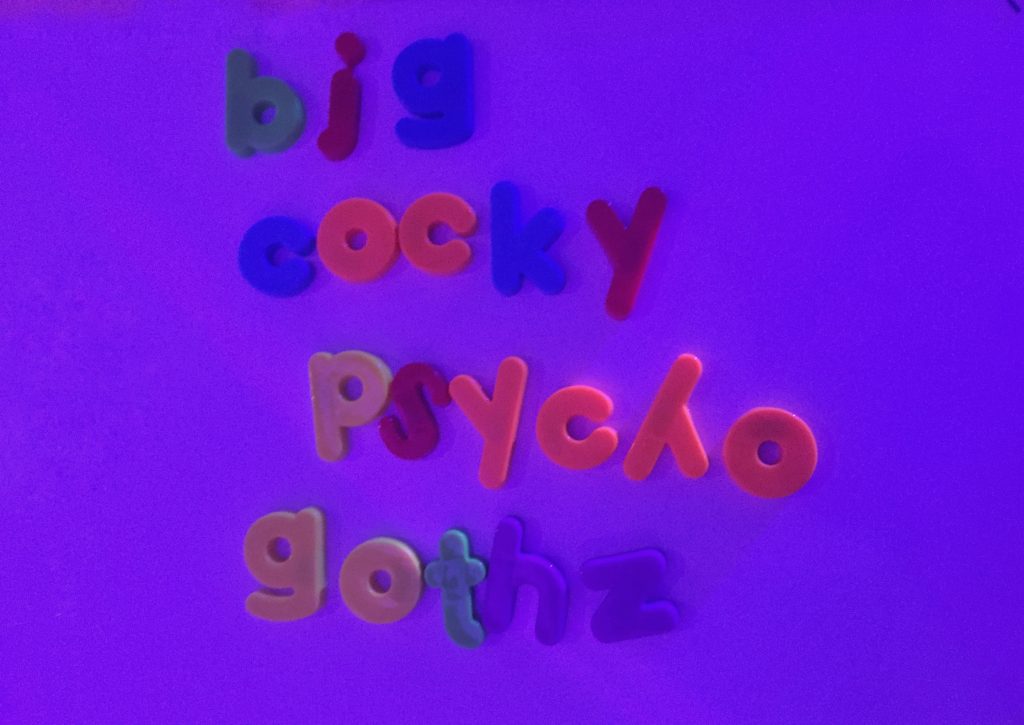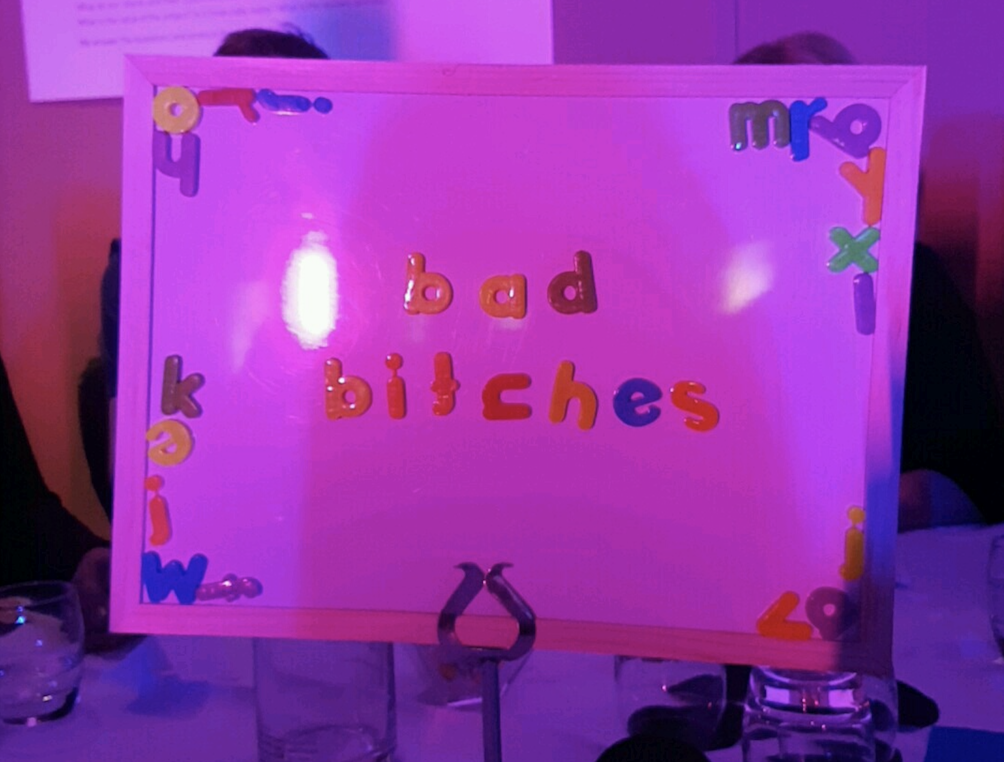 After the name game, came the first of our guest presenters. One of the biggest surprises on the day was seeing various colleagues bravely take to the stage to present on Seventy7. Given a rough script a week prior to the event, each speaker was asked to present the information their way and put their own spin on things and of course keep it top secret until the day. No pressure.
If you've never spoken to a room full of colleagues and peers, it's intimidating. As the day went on and each presenter took to the stage, it was pretty special to witness the support that echoed around the room. The place erupted each time someone new took to the stage, and as one of speakers said, I can tell you it works wonders for nerves.
Seventy7 presenters:
Sian English

Paul Casey

Vikki Hirst

Orla Doherty

JJ

Ryan Handy

Ilana Epstein

Neil Parmar
In addition to their piece about the company, each speaker introduced a game or new section to the event. These ranged from making and throwing paper planes (for prizes), to solving giant puzzles, making plasticine models and deciding what to do with an investment of £20. There's not one person at Seventy7 who can now get away with claiming they're not competitive.
Confetti canons and prosecco signalled the end of our daytime activity and meant it was time to put our glad rags on. Some stayed in the bar, others dashed to their rooms to start getting ready and our event team started to put the room together for the evening.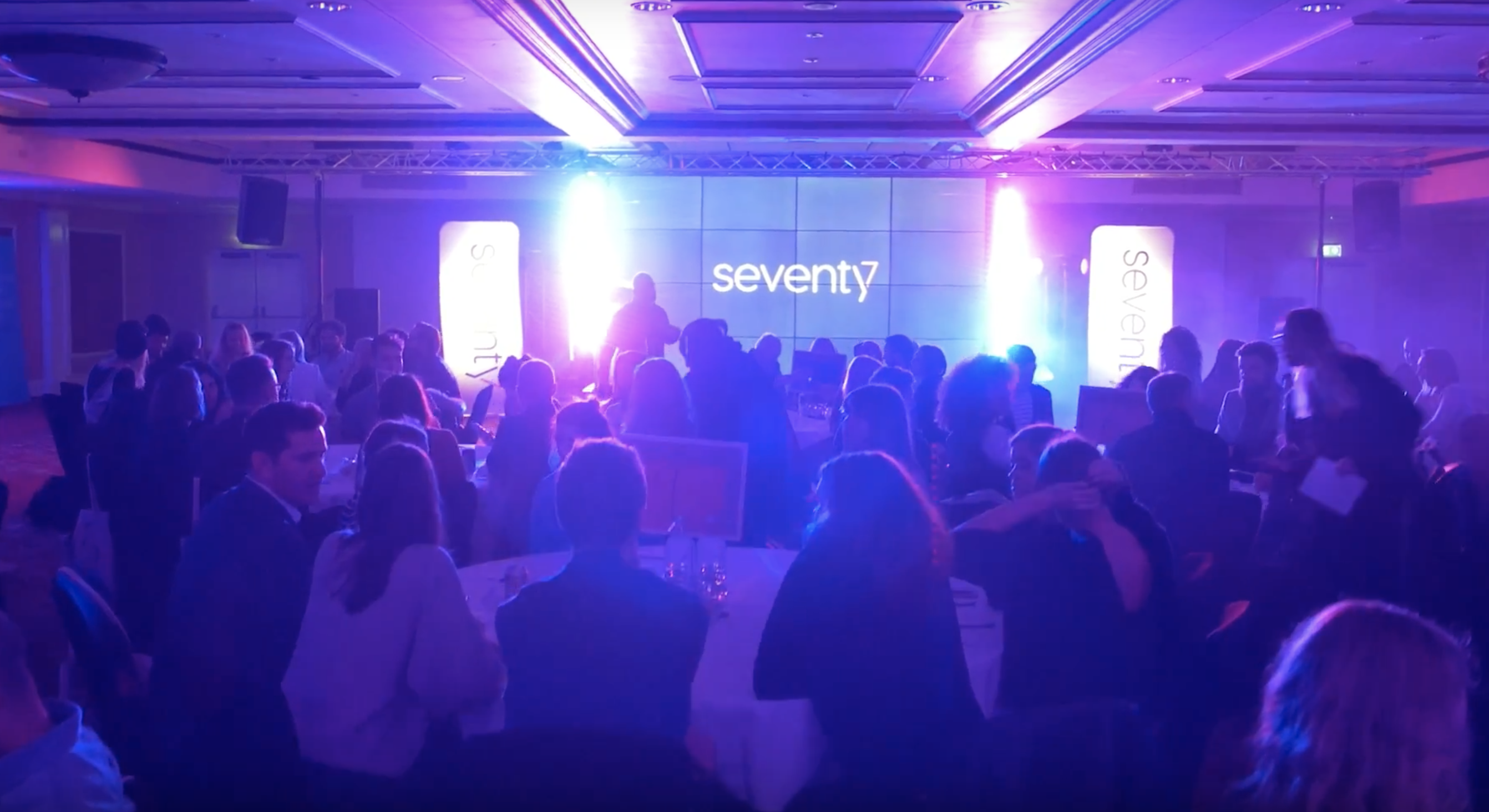 At 7pm, we gathered back in the main room for a 3-course meal and some final words from our host. One of the surprises saved for the evening was a hint at what charity would mean to Seventy7. Two members of our charity committee took to the stage to present Seventy7 Deputy Creative Director, Mike Griffiths, with a giant cheque for his impressive Decembeard efforts. Learn more about Mike's charity work.
The final part of the evening is something we're going to fondly keep to ourselves, we have to have some secrets, right? What we will say is that the dance-floor filled, drinks flowed and a photobooth captured our team at their finest. A bit like this selfie: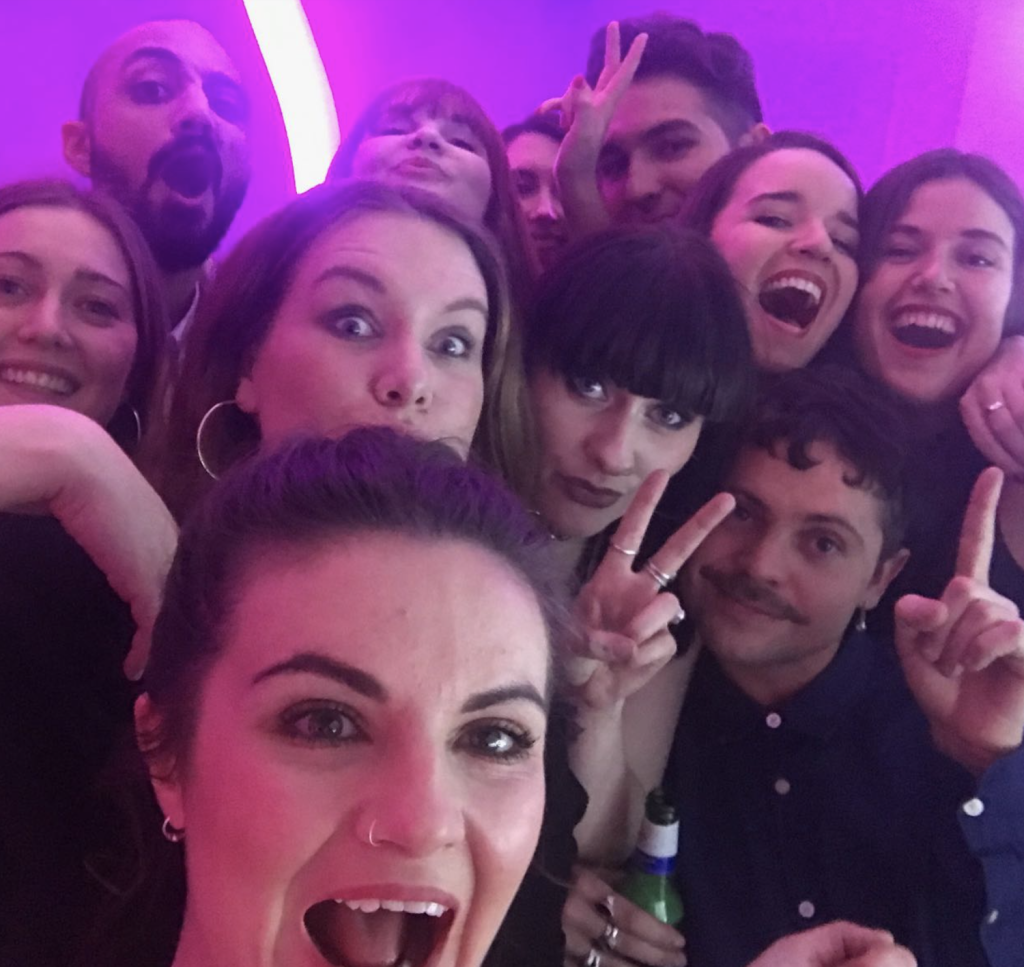 As weary eyes met in reception the morning after, not quite ready for the traveling ahead, talk turned to the next time we'd all be meeting up. You can't hope for much better than that really, can you?
More than just a good excuse for us to get out of the office, this event was about putting our people at the heart of what we do. It was to help them understand and embrace who we are, what we do, why we do it and how we move forward. Our people are the future of Seventy7 and they can't wait to meet you.
Say hello@seventy7group.com or Tweet us @thisisSeventy7