February 23, 2017
london fashion week vs social media
London Fashion Week 2017 saw the fashion industry continue to make strides in the social media sphere. Building on the buzz from New York Fashion Week, countless brands, publications, VIPs and models flocked to Instagram and Snapchat to share their stories from one of the hottest events in the fashion calendar.
Historically, LFW is an occasion covered only by select publications, but thanks to rise of social media, there has been a huge shift in power. Now, anyone with a smartphone has instant access to the front row, backstage and everything else in-between.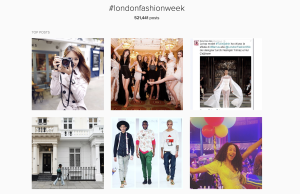 #SMM = £
For an industry used to setting trends, it's actually been rather slow and cautious to adopt social media as an important element of its marketing strategy. A reason for this lies in the DNA of what traditionally makes a successful luxury brand. Luxury implies exclusivity, whereas social media flies in the face of that concept and is about sharing to the masses.
Social media has also been a tougher sell to luxury fashion brands due to issues around brand control, highlighted in this quote from the McKinsey digital report in 2015:
"For each image that luxury brands post on their official Instagram account, for instance, there are on average 10,000 more that consumers have posted containing the brand's hashtag."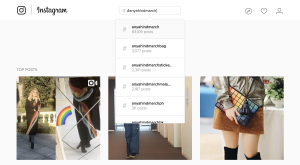 LFW amplifies brands involved with the event, which results in their visibility on social media exploding. A quick search for Anya Hindmarch on Instagram following her show at LFW offered thousands of brand and user-generated posts, alongside dozens of hashtags that include the brand name.
Consumer behaviour has evolved and fashion brands have realised the opportunity events such as LFW present to do more than just sell a product, it helps them sell a lifestyle using social media. McKinsey's research went on to state:
"80% luxury shoppers use social media on a monthly basis"
"Half are weekly users and more than 25 percent are daily social media users"
This is further enhanced by brands strategically aligning themselves with models and influencers who exemplify the lifestyle they want to sell.
See now, buy now
Instagram is undoubtably a standout social platform for luxury fashion. Originally launched in 2010, fashion business tended to use the platform as a form of Look Book. Fast forward to 2015 and Instagram introduced their 'Shop Now' feature - removing the clunky buyer journey that pointed users to a link in the bio rather than being able to click right through on an image.
Burberry have taken this a step further with social media, launching their 'See Now, Buy Now' offering in September 2016 and replicating that with their February collection for LFW. Following a live stream of their runway show on YouTube, Burberry's collection was available to buy, offering consumers the chance to shop the looks.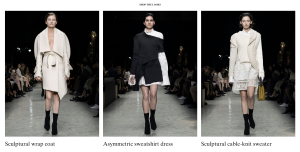 This trend continued with Christopher Kane also launching a shoppable capsule collection of handbags and high-top trainers.
With Instagram already allowing users to create stories and personalise content by adding text and emojis (something all too familiar for Snapchat users), it was only a matter of time before they adopted live streaming.
Instagram live was popular with British Vogue, Sophia Webster and Mulberry during LFW, with Burberry's own Instagram live broadcast attracting over 2,300 viewers during their show on Monday 20th February.
Year on year, LFW is adding an extra element of exposure for luxury brands on social media as it combines fashion with tech. One of the brands taking advantage of this was Mulberry, who chose to tease their followers with a sneak peek at AW17: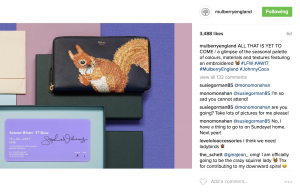 Take a moment
Twitter launched their Moments feature in late 2015. The idea behind this feature was to allow users to curate stories that showcase the best of what's happening on Twitter. It's a quick way to digest the headlines about a topic you're interested in, so works well for entertainment, news, sport and fashion in particular.
It's therefore no surprise to see Moments dedicated to LFW, covering the top content Twitter has to offer on the event. Here's a Moment covering the best of LFW street style:
The best of LFW street style so far
Social media is giving luxury fashion new ways to tell stories and interact with consumers. The success brands are seeing on social media at LFW, reinforces that luxury fashion is about more than just exclusivity. It's about desirability, quality and equity in a brand name, which means it needs to be relevant and talked about. Something social media offers in abundance.