September 27, 2023
Why You Need To Revitalise Your Brand
How to know when your brand needs revitalising?
How do I know if my brand is burning out and needs a revamp? That's a question a lot of people ask on a daily basis, you're not alone. Are your insights not performing as well as last year? Have you seen a decline in engagement or loyalty from your audience?
A study by the DMA (Data & Marketing Association) reported that 70% of businesses are still being negatively impacted by the pandemic. While it made sense for many businesses to put big brand changes on hold during those uncertain times, it's no wonder that the effects are now holding brands back. While your peers are staying still, there's no better time to revive your brand.
In a cost-conscious time for businesses, it's important to be targeted with where you spend your time, energy and (most importantly) money.
So where do you start thinking about revitalisation? The first step is identifying exactly where your brand is struggling, and where it can improve. That's where we come in. Continue reading to learn how you can turn around your brand.
What revitalisation can do for you
By freshening up your brand, you can strengthen your position in your market, reach the right people, and show your consumers that you can give them exactly what they are looking for.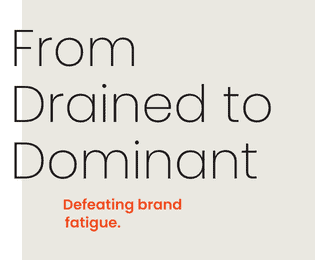 Our guide dives deeper into how exactly you can reignite your drained brand and transform it into one with a dominant position in the market.
Struggling to revamp your brand? Our team of experts are here to help. Get in touch, lets talk.