December 17, 2022
Elevating Belstaff's AW22 collection through CGI
seventy7 are creating a new generation of imagery through industry-leading CGI techniques. Our Phygital experts give you unlimited creative application to your most ambitious project thanks to a carefully crafted blend of physical photography and digital technology.

For Belstaff's AW22 collection we brought an iconic British brand to life by elevating an outerwear shoot through CGI, without leaving the warmth of our studios. Keep reading to find out how we're rapidly elevating the industry as told by our Head of CGI and Technical Operations, Neil Parmar.
When Belstaff approached us to shoot their innovative AW22 Campaign, we set out not to just make eye-catching content, but wanted it to make it immersive, real and explore how far we could push the brief. The phrase "create futuristic worlds inspired by the Icelandic environment" really stood out for our team, and we wanted to explore this as much as possible using our CGI techniques.
Using virtual production methods with a set-build as the foreground and CGI backgrounds, we produced adjustable environments to show off the technical aspects of the outerwear products (without needing to head into snowy conditions). It allowed the whole shoot team to be part of the surroundings, rather than green screen and placing the backgrounds in post-production.
UNIQUE, INNOVATIVE CONTENT
With art direction from the client, it was first about creating the unique environments. Reference images from the client, research in Icelandic landscapes and using AI tools gave us a starting point, which were sculpted to put the control in the hands of our Art Director without the limitation of a freezing location!
Our Art Director had unlimited scope for creativity to tailor unique landscapes to match the Belstaff look. The flexibility to move elements of the environments meant we were able to add more variation and use it to frame the model. Changing the look of the sky or position of a mountain is not really an option in real life, but in our studios it was.
AN IMMERSIVE SHOOT EXPERIENCE
From a shoot team's perspective, we wanted to be able to visualise the environment on set allowing them to tailor and adapt the clothing and styling having seen it within the environment.
The models were fully immersed into the scene which enhanced the way they could interact with the surroundings, whether it was in front of a serene body of water or the rocky terrain of snow-peaked mountains. The client, along with our stylist, had the option to see the outfits in the surroundings and were able to adapt immediately. These small things we built helped enhance the content we created in real time.
HELPING YOUR BUDGET
From a monetary perspective, scouting locations is a costly business for this type of shoot especially when you're looking for a variety of backgrounds. And that's before you start thinking about travel expenses, licensing, and a whole host of other costs. For this shoot, we initially created 21 environments, encompassing different mountain ranges, rock formations, rivers, and lakes all in different climates. Out of this, the client chose seven to fit in with their looks. During the course of the shoot day, we could shoot in front of a snowy mountainscape or a serene lake at the click of a button.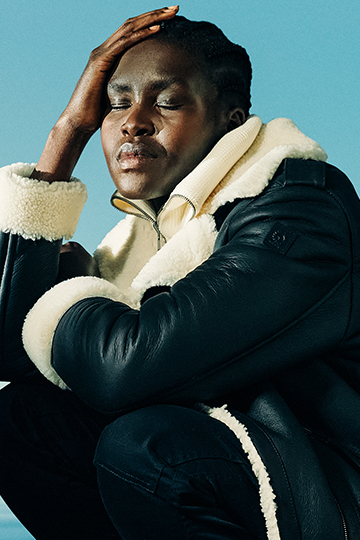 As much as we try to manage all the factors on set, nature is always one of the trickiest elements to navigate, and is usually done so with huge numbers of back-up plans and even more crossed fingers. By shooting with CGI, you have stability and controlled conditions with no rogue weather conditions, allowing us to put in place a firm and efficient plan.
Our ability to work on this immersive photography shoot was built on the foundations of decades of specialist experience working together on shoots for our clients. Our experts understand each other's approach, lighting styles and challenges to create a harmonious set, and therefore incredibly strong content. We focused our resources into the right area, and because we've worked with Belstaff for a number of years, could create gorgeous imagery that stood out for the season.
We're experts in photography, and you can read more about how our industry-leading Phygital techniques can elevate your brand and grow your business using beautiful CGI here.