September 22, 2023
Instagram Broadcast Channels Explained
Ever wanted to have a group chat with your favourite creator? Now you have the chance, with Instagram's newest feature, Broadcast.
Instagram Broadcast is like one big group chat, just without message replies and instead interactive replies with emoji reactions and votes.
In February 2023, Zuckerberg initially launched the Broadcast Channel for trails with a select Creator accounts across the US. This was then rolled out to a wider audience in June 2023 and finally it has arrived in the UK!
Instagram Broadcast is like one big group chat, just without message replies and instead interactive replies with emoji reactions and votes.
Broadcast is the perfect tool to engage and communicate with your audience.
What are Instagram Broadcast Channels?
It is a new way for Instagram creators to directly interact with followers on a personal but wide scale and in real time. This new direct approach to audience engagement is guaranteed to drive a creator's engagement rate if used to its full potential.
Only the creator can send messages, images, voice notes, polls and videos into the channel, not the followers.
New collaboration launch? Give exclusive access to your followers. New product release? Let them be the first to know. Want to do research into what content your most dedicated followers like? Ask them directly.
A creator can send pre-release material to their Broadcast Channel for exclusive content available to members only, creating a greater sense of community and loyalty towards the channel.
Who can create a Broadcast Channel?
Now you know what this new feature is, there's a few things to look at before creating your own.
Something to note is that you will need to have a Creator account to access this feature. So that is the first thing to consider if you are wanting to jump on the trend!
Thankfully, there are no harsh restrictions as to who has access to this feature such as minimum follower account or verified accounts. The one requirement is that your profile must be a Creator Account. Which might answer your question if you're wondering 'why can't I create a broadcast channel?'.
As of now this feature is not available for a personal account or professional account and Meta has not announced whether or not this will be something that will be made available in the future.
How To Make An Instagram Broadcast Channel:
As we have already established, the first step is turning your account to a Creator Account if it is not already. Broadcast is found in the direct messaging of Instagram so just click on the paper aeroplane icon (
) at the top right of the app, start a new message by pressing the notepad and pen icon (
) and select 'Create Broadcast Channel'. You can then personalise your channel by adding a name, selecting if it shows on your profile and choosing an audience for your channel to be shown to.
What is the Broadcasting Channel used for?
If you are a creator you can use this new channel as a quick and casual way to interact with your followers. Keep your audience up to date on what you are doing at any point.
One of the more significant reasons is that Broadcast is used for creators to give their channel members authentic, unedited content and to show behind the scenes content that may not be otherwise seen.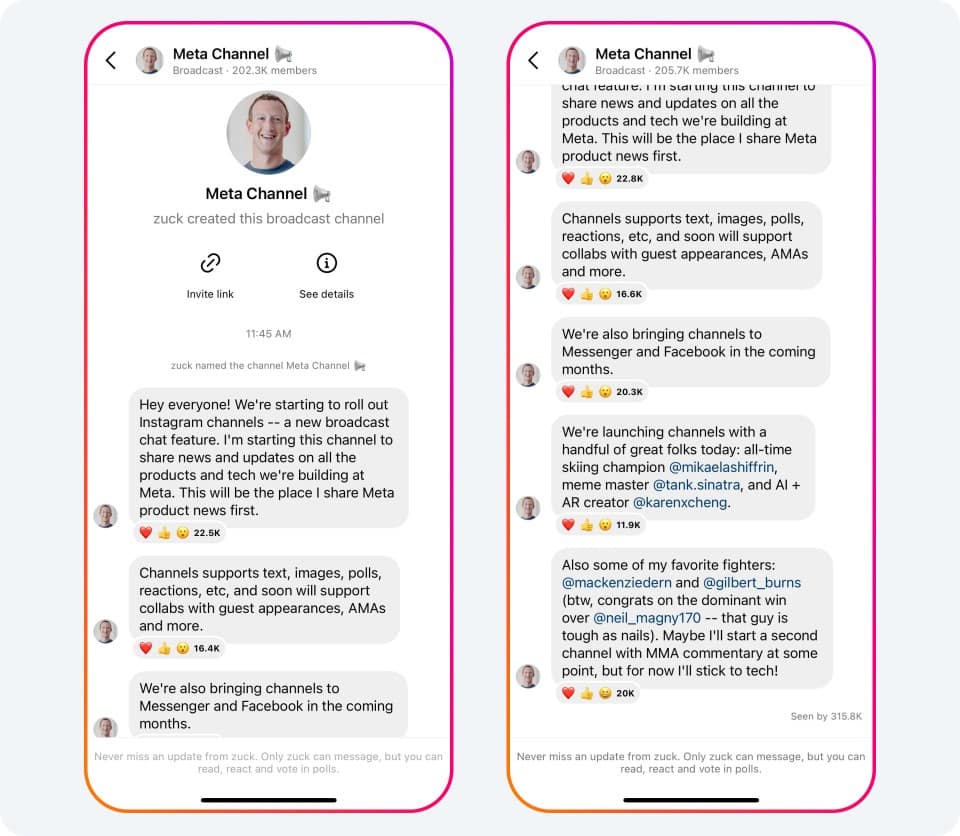 What can you post on Broadcasts?
Think of Broadcasts as being the biggest, interactive Whatsapp group chat. Users with a Broadcast channel can create multiple groups for different audiences, interests, topics - just like Instagram Story Highlights! Within these groups, creators can send voice notes, polls, images, videos and messages.
What can members of a Broadcast do?
Users who join a creators Broadcast can react to messages, images and videos with emojis. Members can also vote on polls made by the creator.
What benefits does using Broadcasts provide?
Increased audience engagement.
Feedback from your audience.
Easy way to build up a stronger relationship with your audience.
Increase followers as a user must follow the account if they want to join the creators broadcast.
Generate content ideas through the response from reactions or polls.
If you want an agency that is always up to date on the latest trends, our team of experts are here to help. Get in touch today to see what we can do for you.
Want to keep up with future digital news? Sign up below to our newsletter for the latest updates.