February 25, 2021
the seventy7 collective: mumbai
Since 2008, the Mumbai extension of our office has allowed us to transform our photographic offering to clients. Thanks to high speed (and high quality) post-production work on photography, first-class retouching of imagery as well as leading digital design.

We work together in multiple time zones to effectively cover the processes involved in planning, creating and delivering the best possible end product to elevate the brands we work with.

What is photography post-production?

Put simply, post-production fixes anything and everything after you've shot a bank of imagery. Whether you're looking to match colour, light exposure or contrast, it's absolutely crucial that your post-shoot processing is watertight to avoid any inconsistencies in your collection of photos.

While some shoots may only last an hour, post-production can take ten times that long if you're looking to get the perfect look and feel of the final imagery that fits a client's house style. This is where the images you shot come to life thanks to digital expertise.
On shoots that require a tight turnaround, our Mumbai office is able to retouch and process images within 8-24 hours depending on the final requirements.

Constant communication allows us to stay a step ahead of the pack thanks to creative solutions to briefs with tight turnarounds. Our Mumbai team has been hand-picked to enhance our artworking output without needing to externally offshore our digital requirements.

Our collective of specialists works closely despite the long distance between us thanks to constant communication and workflow management, find out more about our Mumbai office below.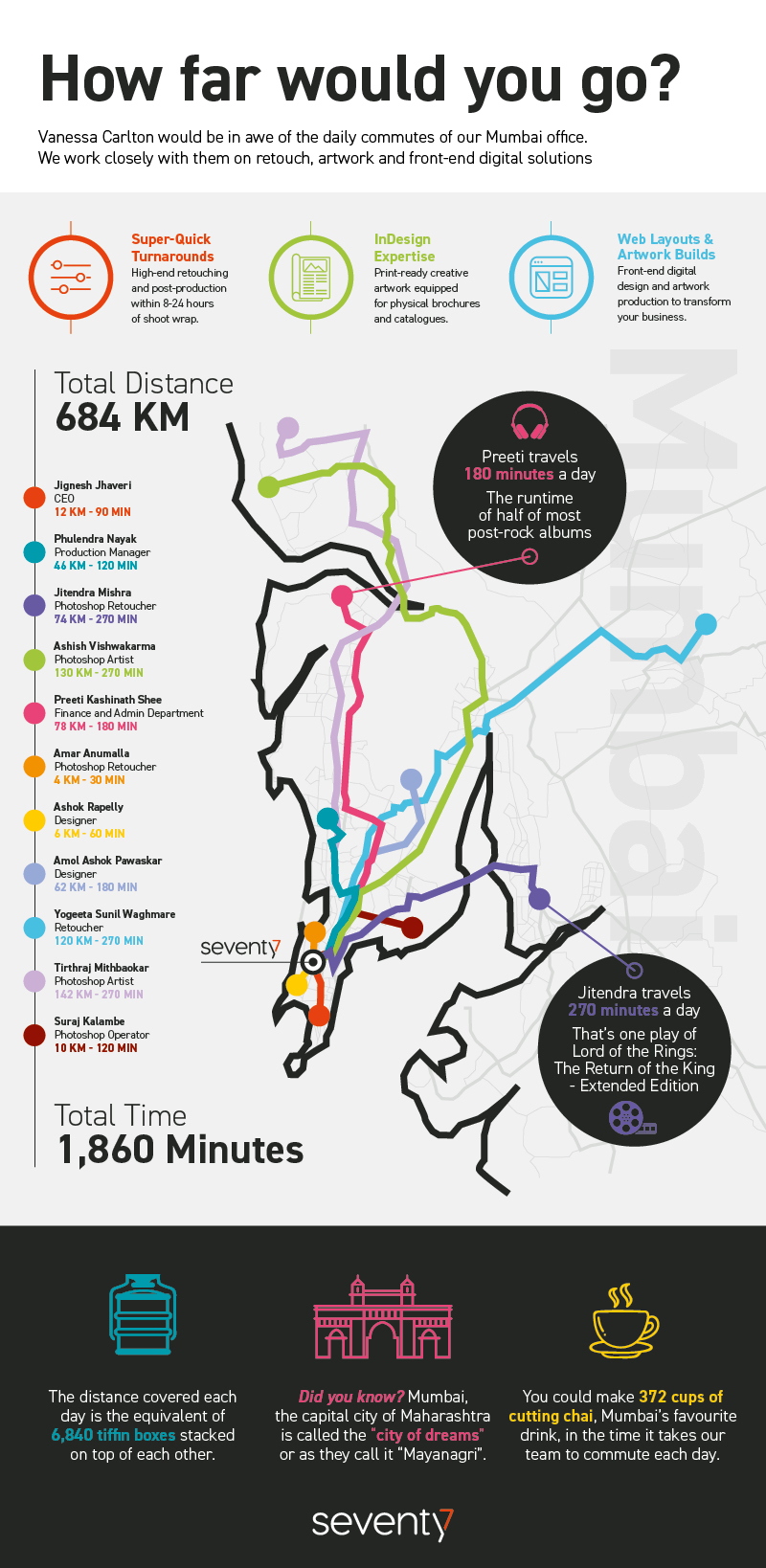 Artwork, it's Kraft(werk)...
Not only are they leading in photography post-production, our Mumbai office are experts in artworking and Adobe InDesign.

So if you're looking for print-ready design for a brochure or catalogue, look no further than seventy7. Our UK and India offices have been working closely together for over a decade to offer quick solutions without needing to externally outsource our work. It means we can fulfil our client's needs successfully.

...don't forget about digital
Need front-end digital design that enhances your business? We've got you covered. Our artwork craft extends to website landing pages and email layouts to elevate online outputs for brands across the world.

Working in conjunction with our UX builders, we're able to offer a multichannel approach to everything we create. seventy7 is way more than an agency, we're a collective of specialists that love what we do. We have experts in digital design that will make your website look right for you and your audience, and analysts that can improve its speed and make it easy to navigate.

Whatever backend your site is built on, we can help. We have a proven track record in building high performing sites on Magento, Shopify and Wordpress. We ensure your brand has a reason to stand out, speaks to the right customer for your product, and is appealing and exciting.
Hear from our experts on how to create the perfect product photography here, find out why first-class ecommerce photography has never been more important here.

seventy7 is a collective of specialists who are experts in our fields, speak to us today about how we can transform your photographic output.