December 2, 2020
How to Enhance Creative Content for Paid Social
When it comes to branded content, creativity should be at the heart of everything you put in front of your audience, from campaigns fit for billboards down to the smallest Facebook post. With paid social content in particular, there is added risk involved thanks to a wider audience being reached, the expectations are far higher with more eyes on your brand.
Facebook and Instagram have over 3 billion users, and both platforms arguably offer the most effective and impactful way of advertising to create awareness and generate revenue. To succeed in paid social advertising you must put time and effort into your ads, from building your brand to encouraging audience engagement.
Consumer expectations are constantly shifting, so having a huge range of content is a must. With that in mind we're going to take you through the type of creative imagery and video content to use in paid social advertising at each stage of the consumer journey.
Our paid ads team has a host of experience in creating campaigns that get people to stop scrolling, and take action. We know exactly what works for awareness and engagement campaigns which will entice new audiences to your brand, as well as remarketing campaigns that keep them interested in what you're selling.

Awareness
The imagery assets in an awareness campaign are used to drive new and quality users to your site. The objective is to entice and influence the user with your brand positioning and messaging rather than being a sales hook.
Remember: this is your opportunity to showcase your brand and what differentiates you from your competitors.
To start, we recommend using the assets which have received the highest engagement organically on your social media platforms. If they're good enough for your usual audience, they're much more likely to be popular with the demographic you're looking to target.
The prospective imagery should show an aspirational lifestyle associated with your brand and should inspire new customers to put themselves in the model's shoes.
Recommended themes: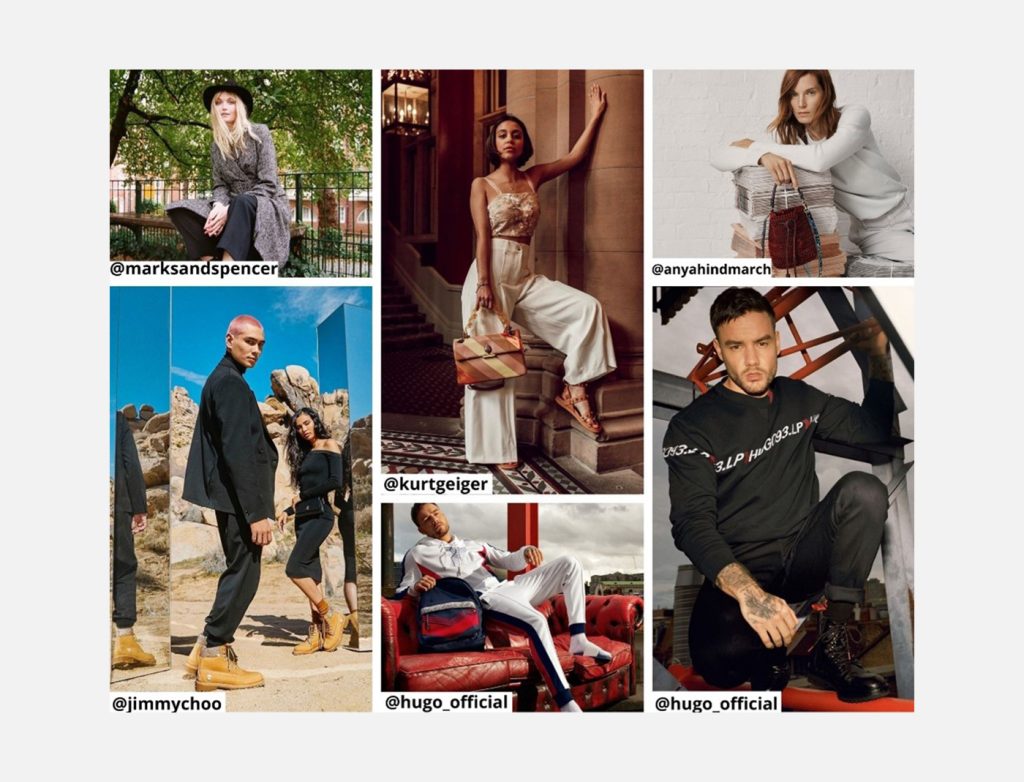 Engagement
This is all about the variety, the imagery required for engagement campaigns cover everything from models to framing. Your ads will perform better if you have a huge bank of high-quality images which can be refreshed on a regular basis.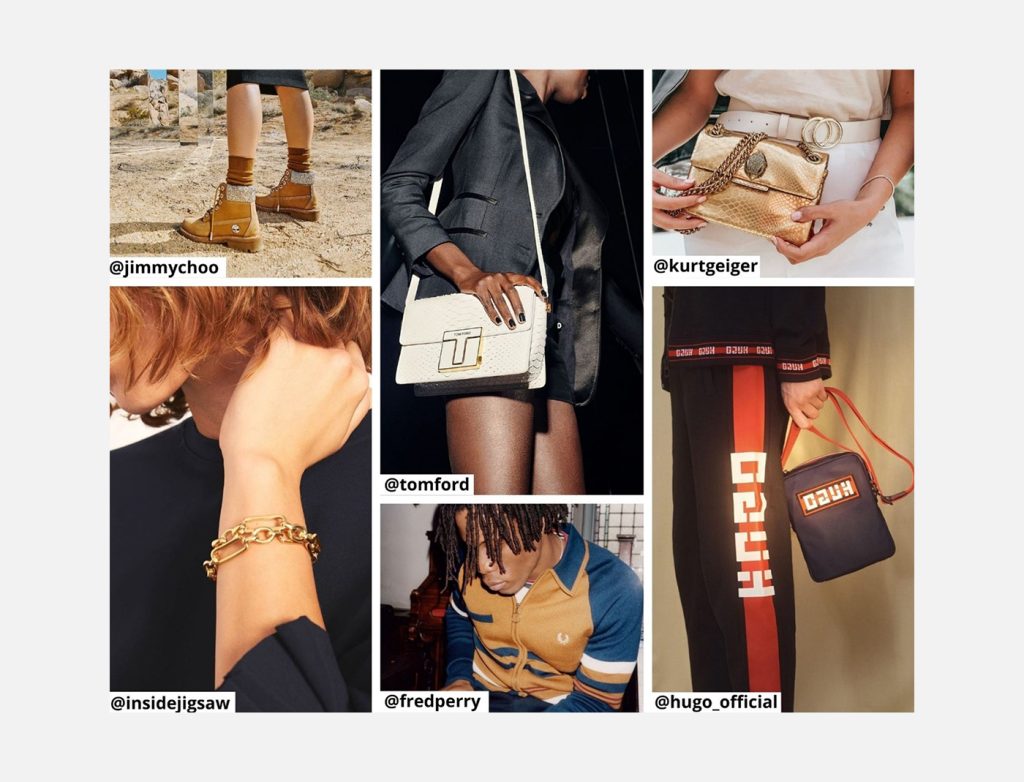 Remarketing
Your imagery will need to be more product focused as you are targeting users who have already visited your website. The ad copy should be more sales-driven and can be specific to themes, such as 'New In', to entice the user to revisit your site. Your remarketing assets will need to be refreshed on a regular basis and be in line with product releases and onsite best-sellers.

Further down the line when your audience is familiar with your brand and product offering, your imagery should focus more on the product itself which will ultimately push your audience into a purchase.
Remember: You need your audience to want these products!

Recommended themes:
Image Creative Guidelines
When producing assets for paid social ads, we have a few guidelines to ensure you get the best results.
Clothing
Social ads for clothing brands work best when you have a variety of image styles to work with. These include but are not limited to:
Selfies or shots in front of a mirror
Head-to-toe shots where the blogger or model's face is visible and the full look is shown. Inspire your audience with styling ideas
Over the shoulder shots to show off any back detailing
Movement shots which showcase the fit and details of the product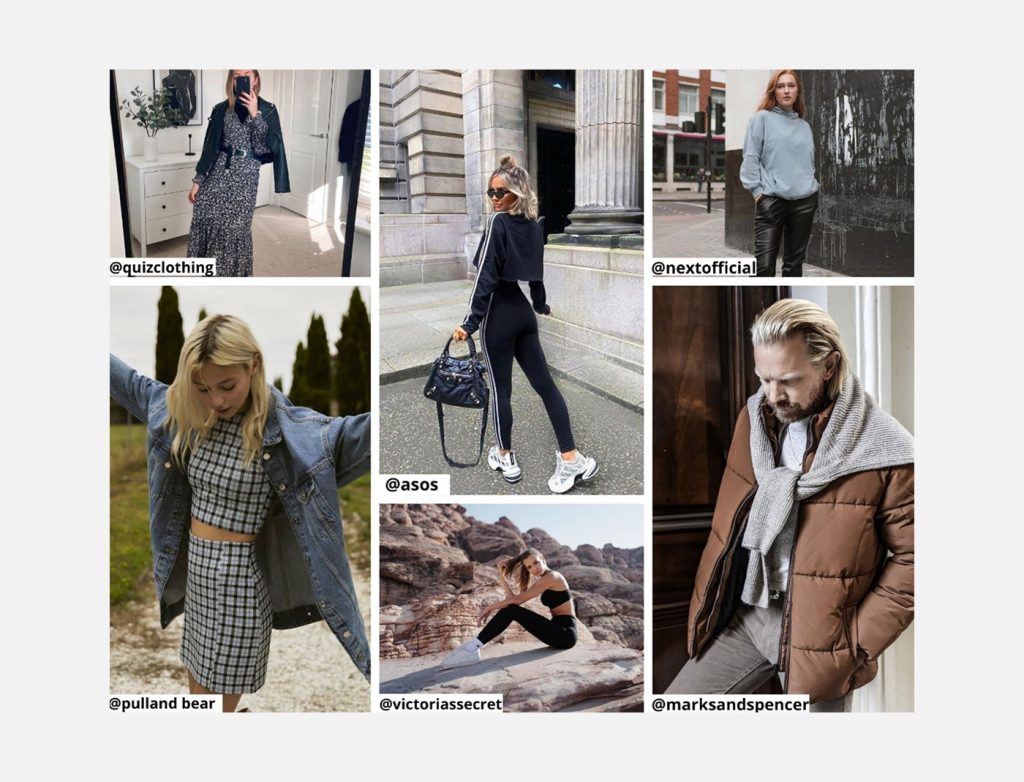 Footwear & Accessories
Similarly to Clothing, social ads for Footwear and Accessory brands work best when you have a variety of image styles to work with. These include but are not limited to:
Close-up shots focusing on the product
Holding the product to show its scale
Movement shots to show its scale and details
Lifestyle flat lays
Plandid shots – caught in the moment or in a natural environment
?Hot Tip?
Try to avoid using imagery where the styling overshadows the product or where the product is not the focal point. Images that are too busy will distract your audience from your product.
Quality
This entire blog means nothing if you cannot see the images clearly! It's all about crisp, clear images. Your images will be the first point of contact with a new customer and if they're poor quality, they will associate your brand with poor quality products.

"Although we approach every creative brief differently, we always set high standards. We don't let anything go out that doesn't meet those standards either.

It takes all sorts of approaches, from evolving a brand's look and feel or tone of voice, to developing a new style of photography, or even elevating their existing images through great post-production and design. And our digital marketers make sure the content actually gets seen by the people you want to see it."

Michael Griffiths - Deputy Creative Director

VIDEOS
Awareness & Engagement
Video assets in awareness and engagement campaigns are used to reach new users quicker and more effectively. We recommend keeping your videos to 30 seconds or less when it comes to enticing people into your brand story.
Recommended themes: Lifestyle
Pandora

By showing their products from the perspective of someone going through every happy stage of their life, Pandora can frame their product as the perfect accompaniment for each of those amazing life moments.

Recommended themes: User-generated videos
River Island
River Island's collaboration with Blood Brothers opened them up to a new audience, which meant they needed to frame their products with a rawness that makes this video look like UGC.

Remarketing
The video assets in a Remarketing campaign are used to add more touch points to the user's purchase journey. We know that users purchase more frequently through Facebook, but they consume more media on Instagram.
With this in mind, you should run Instagram Story ads to coincide with ads on Facebook to keep the brand at the forefront of your audience's mind and drive sales. We'd recommend that remarketing videos are a little longer than awareness or engagement videos, as the audience already trusts in your product, allowing you the creative freedom to tell your story.
Recommended themes:Lifestyle

OMEGA
As a luxury watch brand, it's important for OMEGA to reflect their status within an aspirational lifestyle ad campaign. They're telling their audience that they too could have this glamourous life if they own this watch.

Recommended themes: Campaign

Pretty Little Thing
Pretty Little Thing are well known for reposting user generated content on their social platforms. By shooting a campaign using a brand ambassador that's well-known to their target market, they can encourage more people to create for them by buying their products.
Recommended themes: User-generated videos

Monki
The messaging in this Monkifesto campaign is about creating equality as a collective under the Monki banner, and is a powerful sales technique for an audience that wants to see their favourite brands care about the same issues they do.

Video Creative Guidelines
Consumers have been found to have shorter attention spans than ever and will not watch long, uninspiring videos. Keep your videos short and grab your audience's attention quickly.

Video
Tailor the story to your audience. People are more likely to pay attention to content that's relevant to their interests, which means you'll likely get better results if you customise the ad's message for the people who see it.


Use the first few seconds wisely – You need to bring the story to life quickly. As people scroll through the News Feed looking for content, your video ad should immediately grab their interest. Always introduce your brand or product at the start of the video to make sure you set the scene for your storytelling.


Video length. Instagram stories should be a maximum of 15 seconds and Instagram and Facebook videos should be a maximum of 30 seconds. If it's a campaign video and you're taking a storytelling approach, then they can be longer.


Tell your story without sound. Since videos on Facebook autoplay with sound off, it's important to make sure your video ads entice viewers when muted. Therefore, subtitles are a must! If users do enable sound, it should add extra value and give the story more colour, but this shouldn't be the make or break for the video.
GIFs & Boomerangs
Images that incorporate some sort of movement are an absolute winner. If you're struggling for action footage, GIFs are a great way to grab attention. This can be:
Slight change in images for a 'walking' shoot
Flicking through a new collection
High quality boomerangs that showcase your product
-
We probably don't need to tell you that mastering paid social advertising is a must for any brand that hopes to succeed in 2021. The marketing powerhouse is continually demanding innovation in the way products are being presented, so having excellent photographic and video content at hand is more important than ever.
Our photography, digital and multi-channel creative teams are always eager to bring a bespoke approach to a new campaign, so if you want help on a paid social strategy, then get in touch. Or if you want the latest industry trends, get the seventy7 newsletter delivered straight to your inbox. We round them up, so you don't have to.