October 26, 2018
the beauty industry is booming
The Beauty industry is booming like never before with celebrities, influencers and even brands creating their own makeup lines. It seems that if you're already famous and successful then the next step in your career is to release a makeup line, whether it's your own or in collaboration with a well-known brand. Over the last couple of years, it has been clear that high profile celebrities are a winning strategy for the beauty industry. Being well known and popular with the younger generation especially can dramatically increase sales thanks to products being shown on their social networks- technically free advertising! Let's take a look at the innovators that are revolutionizing cosmetics and becoming overnight billionaires.
Kylie Jenner
American reality television personality, model, entrepreneur, socialite, and social media personality. Kylie Jenner has been branded by Forbes magazine as a 'self- made' billionaire at the age of 21. It all started with a lip liner and matte liquid lipstick, which sold out within a minute and sent prices on resale sites soaring. With a monumental online following on all Kylie's social networking sites she was able to effectively promote her line and grab the attention of millions of makeup lovers desperate to get their hands on her products. From there she has released multiple collections including one dedicated to her mum Kris and since the release of her line she has made over $630 million. Kylie's a great example of how someone with no professional make up experience can utilize her social media platform and millions of followers to create such a successful brand. This is now changing the industry due to more celebrities/influencers jumping on the trend and making millions.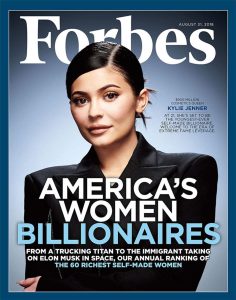 PrettyLittleThing
One of the newest brands to jump on the makeup line band wagon is popular clothing company, PrettyLittleThing. Already extremely popular within the clothing industry with a massive online following from girls aged 16-34 what better way to increase sales further by starting their very own line, named 'PLT Beauty'. They offer a large variety of products and prices are extremely affordable making it perfect for the younger generation and students. This expansion is a perfect example of product development being led by audience trends and research, giving the Pretty Little Thing consumer a relevant new product line.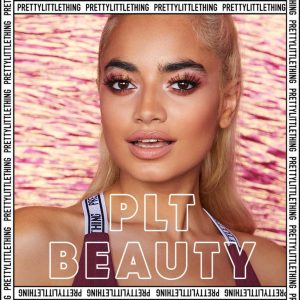 Rihanna
R&B super star Rihanna also launched her own make up line with the promise of inclusion for all women. Her aim was to make sure there was a shade for every single skin tone, which she successfully did by designing a range with 40 colours to choose from, making it easier for people to find an exact match. All her products are 100% cruelty free and the brand says, "we never test products or ingredients on animals, nor do we allow suppliers or affiliates to conduct testing on our behalf". With over 65 million followers on Instagram alone, fans were beyond excited to see what she would produce, and she definitely lived up to their expectations. Fenty Beauty is a perfect example of a brand entering a crowded market with a strong niche to fulfill, and a strong point of view on how to revolutionize the market. With a brand like Rihanna at the helm, a quality product and reasonable price point ensured it couldn't fail.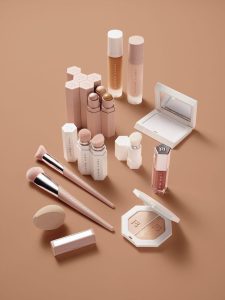 Jeffree Star
Known for his controversial videos and his incredible makeup skills, Jeffree Star has over 11 million subscribers on YouTube where he collaborates with well-known celebrities. His make up brand 'Jeffree Star cosmetics' first launched in 2014 with success quickly building as he was able to promote it on his YouTube channel. His first release was a collection of velour liquid lipsticks, just like Kylie Jenner. His fans loved them, so he carried on expanding the range. His brand is all about expressing yourself and trying bold, colourful looks. With a follower ship that are ready to emulate his video content and social media photographs, plus influencer-led promotions that attest to the product quality, Star's range has quickly become a big player in 16-25s makeup retail.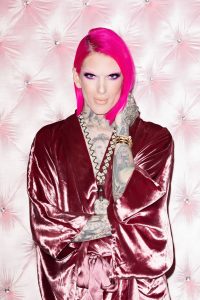 Kat Von D
Katherine von Drachenberg, known as Kat Von D, is a well-known American tattoo artist who was approached by Sephora about creating a makeup line back in 2008. Her goal was to come up with the four most perfect shades of red lipstick (her signature colour). From there the line grew bigger and bigger making around $2 million in the first year and becoming extremely popular with fans and makeup professionals who swear by her products. All the artwork on the packaging is designed by herself just like her tattoos. "We are bold, unapologetic, outspoken and different in our own way. We are artists, poets and lovers. We are the outsiders and the insiders". The reason for the success of her line is due to her individuality and authentic style.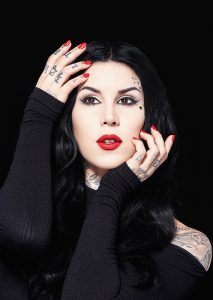 The Beauty industry will continue growing and changing over the next couple of years, but will celebrity lines take over our once loved brands like Max factor and Revlon? Could this be due to the impact of fan bases and social media?
Image Credits: Forbes | Eonline | Forbes | Cosmopolitan | Hellomagazine