September 7, 2021
Motion First Is The Next Big Innovation In Ecommerce Photography
Iain Dickens is seventy7's Head of Photography. He's been innovating and driving creativity in the industry for decades, and has found a gap in the market to ensure none of our clients are being left behind.

I trained as a stills photographer throughout the 90's. This meant spending five years working for as many different photographers as I could, learning my craft. I then spent 10 years shooting in my own studio honing that craft. During this period the whole industry converted from an analogue film based workflow to a predominantly digital workflow.

The main driver for this was technology - the invention of desktop publishing, which meant a need to digitise images, but ultimately it was down to digital cameras.

As these cameras started to appear, forward thinking photographers could see the possibilities, even though in the early days the image quality was not even close to that of medium or large format film. Many photographers even dismissed digital cameras as inferior or even saw them as a gimmick! They were perfectly happy with their film cameras, which they believed gave them all the quality they would ever need along with the security of a long established workflow that met all their requirements.

The only problem is that technology has a habit of marching on. It didn't take long for the cost, benefits and turnaround times of a digital workflow to win. There were many teething problems that had to be ironed out, a lot of them to do with image size or colour reproduction in print, but these were solved in time and now the convenience and low cost of digital is the norm.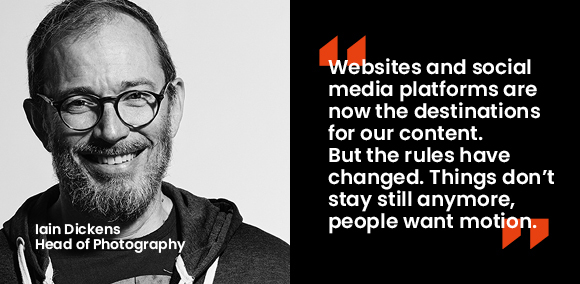 I believe we are now at a similar junction in the journey of image making. The medium on which images are viewed has changed from the printed page to the screen. Websites and social media platforms are now the destinations for our content. But the rules have changed. Things don't stay still anymore, people want motion.

While the technology of digital stills cameras has been advancing steadily for the past 20 years, there has been another revolution happening concurrently in moving images. Film and tape cameras have been all but replaced by digital ones. Manufacturers such as Arri and RED have the cinema world sewn up with cameras that cost tens of thousands of pounds but as with most technology, the trickle down effect has brought us affordable digital cinema cameras with incredible quality.

We now have access to moving image cameras that shoot raw images where every frame is effectively the equal of our professional stills cameras and they can shoot upwards of 50 of those frames every second.

The technology is now here for us to be able to take high quality still frames from a video at an affordable price.

What are the benefits?
The main benefits of choosing a Motion First shoot on set with seventy7 are:

Moving and still imagery are now interchangeable on set, the client can choose a variety of deliverables from the shoot day.


A more efficient workflow on the shoot day means no need to shoot twice for stills and video.


Still and moving assets will be a much closer match than if they were shot separately. This is important when they appear next to each other on the product listing page.


We can now maximise the amount of products that we can get through on a shoot day and spend longer on post production days creating assets.


We can build an ecommerce workflow that also allows for seamless creation of social media assets.
Put simply, a Motion First approach makes your audience sit up and act by maximising the output on your ecommerce video and imagery. This holistic approach elevates your products and gives you results on every platform through beautiful consistency.

Speak to us today to find out more about how we can bring a Motion First approach to the table and enhance your brand. Watch this space for our Motion First launch online.