April 27, 2021
Why first-class ecommerce photography has never been more important
With brands and customers alike riding the ecommerce wave that's been accelerated by the lack of opportunity for physical retail, ensuring that your ecommerce photography is on point has never been more crucial.

A key element of ecommerce photography is making sure it reflects the brand you're working with, and captures the imagination of your intended audience. With ecommerce sales growing to reach a third of all UK sales in May of last year, it's never been more important to capture and optimise imagery specifically for online.

The seventy7 collective is full of talent that comes together to boost brands through top-tier planning, creation and delivery of content. Our decades of experience puts us well ahead of the pack, keep reading to find out our advice on how to capture imagery for ecommerce, as well as the best ways to enhance it for your audience.

Expert advice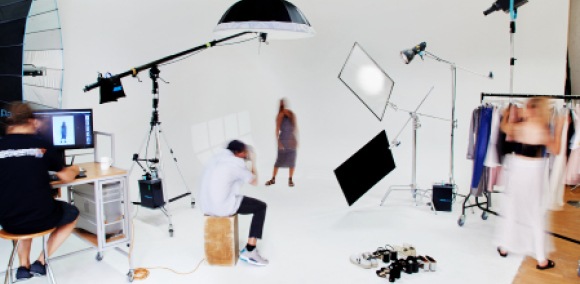 Ben Edwards, Iain Dickens, and Garry Stevenson are Senior Photographers in our London studios, while Joshua Jackson is a Photographer who works from our Manchester studios. They've been capturing ecommerce imagery collectively with seventy7 for a long time. Their vast portfolios encompass various photographic disciplines, with specialist work in still life, beauty, fashion and food. They've offered up some of their knowledge on how to create the perfect product photography.


Know what you want to achieve
No one wants to be confused about what you're selling. You need to have the end goal in mind when you're taking ecommerce photos, so having that in mind at the start will make everything fall into place by the time you're looking over the images in post-production.


Light it up
Keep the lighting natural and clean. You can create the illusion of natural light fairly easily through a two-light setup, one to put a spotlight on what you're shooting and the second to soften any shadows around it. Customers don't want to be distracted.


Have a great stylist
The photography can be incredible but that doesn't mean anything if it hasn't been styled correctly. Whether they're a fashion, food, or homeware specialist, each stylist has a unique approach to their specific forte, and can elevate a product thanks to their expert input.


Consistency is key
Unless you're developing a brand's style, every image you shoot needs to match what was on their website a month, two months or even half a year ago. Failure to be consistent means people will be put off from buying these products. This includes measurement of distance to camera, the position of the product and many other factors that need to be controlled to aid a hyper consistent result.


Angles, angles, angles
The more your customer can see of the product the better, so offer them the chance to see it from a variety of angles to make sure they know what they're getting. This means they can view a product with confidence and make the decision for themselves through the right imagery.


The right setting
Whether it's the lighting, studio or location set, each different brand's aesthetic will help you inform your setup. If the brand is aspirational, reflect that in where you capture the photos of their products.


Capture the mood (and stick to the brief)
You need to really understand what your client wants from their brief. It's not just about capturing the most beautiful image possible, we aren't trying to be the next Nick Knight or Rankin! We still have to create imagery that is on trend that will show the customer a product that looks its very best. Our discipline requires our work to be more technically sound and perfected than high fashion photography.
Don't forget your platform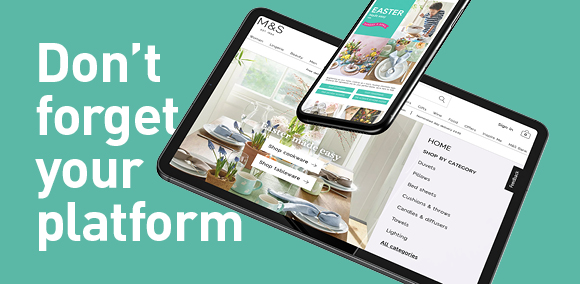 The importance of planning how photos are going to work online cannot be underestimated. This should absolutely be an integral part of your planning process. No matter how well you create something, if it isn't delivered to the right audience, then you've missed out on a huge opportunity.

Getting this right has to come as part of the brief for a photography campaign: where are the photos going to be used? Will they be organically posted through social media? Will they live on a website? Are they going to be pushed through on paid social? Keep reading to see just how imagery and digital marketing work together in the current ecommerce climate.

SEO & UX

Optimising imagery to make sure that it doesn't get punished by SEO algorithms is crucial, but not the only part of your digital objectives. Your images should be working as hard as possible for the brand you're shooting for.

It can be as simple as simply saving the name of the photo under a descriptive filename which contains a keyword:

Non-optimized file name: IMG-03625-250×250
SEO-friendly file name: scarlet-tealight-candle-closeup-250×250

It's also worth remembering that SEO and UX are intrinsically linked: the easier and quicker your site is to navigate, the more likely it is to generate more traffic. This means that things like large images that take a while to load will be punished by certain Google algorithms. So as amazing as your photos are, always take care to compress them so they don't slow down the intended brand's site.

It doesn't matter if you have the fastest site, the most creative copy or the best value for money. Having professional standard photography in your marketing will make the difference between converting a customer and them choosing the competition.


Rob Goodison - Digital Marketing Manager
Social Media & PPC
Images draw people in much quicker than plain text (although good accompanying copy is important). By getting their message across quicker, images can hold an audience's attention and can give a much stronger introduction to a product than plain copy.

PPC advertising is where most audiences first come into contact with a brand through targeted messaging. Because their expectations and general consumer behaviours are shifting with the times, it's so important that the imagery you capture reflects those shifts.

Imagery for PPC is designed to get audiences to stop scrolling and take action. That generally comes through well-thought-out campaigns featuring familiar faces that represent a brand. You want people to want these products.

The marketing powerhouse is continually demanding innovation in the way products are being presented, so having excellent photographic content at hand is more important than ever.
Read more from our experts about planning, creating, delivering and optimising product photography here.

Be the first to read our latest online features by signing up to our monthly email here. Need us to enhance and elevate your brand by creating long-lasting connections with your audience? Let's talk today.